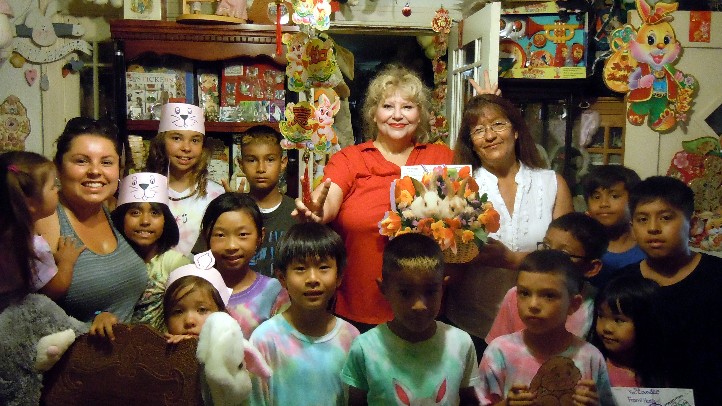 There are a lot of reality shows that focus on people with certain collections and obsessions, it is true. But we're still waiting on the show that celebrates the home museum.
We're not talking about a museum that focuses on the home and domestic life; we're talking about those people who actually open up their homes and invite visitors in, usually free of charge, to admire something within the house. Dear and dearly missed Forry Ackerman did that with his Griffith Park home (and his thousands of B-movie artifacts). And Candace Frazee continues to welcome rabbit-loving strangers into her Pasadena abode.
Yep, we're talking about the Bunny Museum, which we call Pasadena's most famous small museum and certainly one of the most famous home museums in the country. Yep, the country.
Why do we speak in hyperbole? Because the Bunny Museum contains over 28,000 hare-related items. Dolls, figurines, photos, blankets, you name it. And, yep, a few real hoppers hopping about, too.
Ms. Frazee and her husband Steve Lubanski have been overseeing the Bunny Museum for the better part of two decades and welcome visitors, for free, during holiday open houses. Meaning that the Bunny Museum is indeed open for Easter 2012 (that's Sunday, April 8).
So, what's new at Bunny HQ? The last time we posted we reported that the museum had around 23,000 bunny items; that number, as seen above, is now well over 28,000.
And, wait for it: Ms. Frazee is now creating Bunny Museum webisodes -- they're called "Hop On Over":
And did you see Elijah Wood's visit to the Pasadena hopspot? Yep, we said hopspot. If you can't get into hare-happy wordplay, find it in your heart to do so before making for the most bunnyriffic spot in all the land.
Follow NBCLA for the latest LA news, events and entertainment: Twitter: @NBCLA // Facebook: NBCLA
Copyright FREEL - NBC Local Media