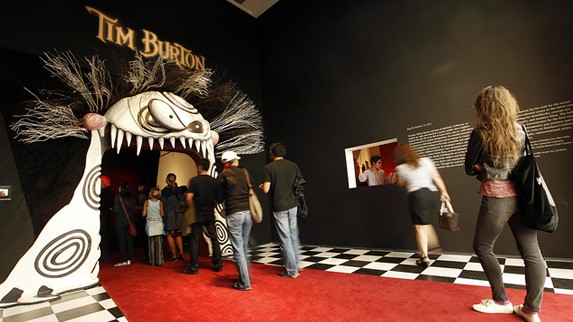 It happened three times over the summer. We got to chatting with a stranger, usually at a restaurant, and came to find out they were visiting Los Angeles for one purpose: to see the Tim Burton exhibit at LACMA.
No surprise there. The major retrospective has drawn both locals and far-flung fans alike, and it will continue to do so right through Halloween, which happens to be its final day.
But there are a few Burton-y happenings going on even as the show winds down. On Friday, Oct. 21 the museum presents a Behind the Scenes night featuring "key Burton collaborators" in conversation. Those collaborators would be composer Danny Elfman, costume wizard Colleen Atwood, and production designer Rick Heinrichs. Following that is a screening of "Edward Scissorhands." Ms. Atwood designed Edward's iconic zipper-laden outfit, so it is a true treat to have her in the house.
We should also mention "Tim Burton's The Nightmare Before Christmas" in Disney Digital 3D opens on Friday, Oct. 21 at the El Capitan in Hollywood. This isn't affiliated with the LACMA events but since there will surely be crossover, we're making a note.
The final weekend of the show -- that's Oct. 29-31 -- will have its own special touches. Our favorite? The exhibit'll be open all night long on Sunday, Oct. 30. There's something tantalizing about the idea of standing before "Big Fish" concept sketches at 4:45 on a Monday morning.
Happy Burtoning, Burton buffs. It certainly has been a show that has drawn visitors from all over. But then a chance to peep at a certain zipper-laden bodysuit, in person, will do that.
Here's Ms. Atwood discussing her sartorial creations for "Alice in Wonderland."
Copyright FREEL - NBC Local Media