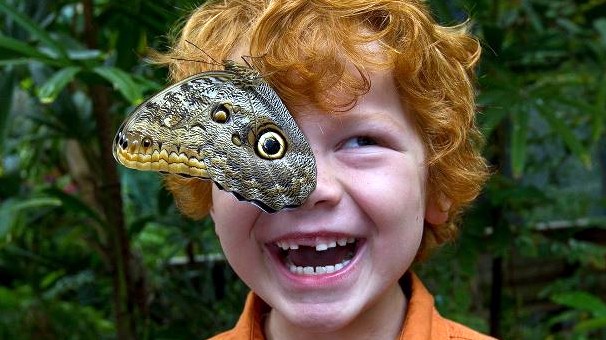 SURE SIGN: Buds and petals have gotten to doing what they always get to doing around the middle of March (call it bursting or popping or blooming or all of the above). But, at least for us, springtime doesn't truly arrive before the first butterfly lands on the first delighted child at one of Southern California's science institutions or animal parks. The various netted-off enclosures where butterflies and mothly creatures are allowed to flit freely -- and we're invited to interact with them in a gentle and observant manner -- is now a March-through-May standard (just like the spider enclosures have become an autumn staple). The first of the butterfly bastions just debuted, and, like a bug's life, the run won't be forever.
BUTTERFLY JUNGLE: It's located at the San Diego Zoo Safari Park and will flap-flap-flap its wings through Sunday, April 15. (There's a fine idea for unwinding from all the Tax Day paperwork; making for Butterfly Jungle's final day.) Coloring contests, photo competitions, and family-fun to-dos mark the Jungle's three-week run. Us? We like all that, but we like the Butterfly I.D. guide best because we really, really adore the names. The Gulf Fritillary? The Orange Julia? Pure poetry. If you're a wing fan, get to the Safari Park, and also be sure to schedule LA's own Natural History Museum onto the calendar, too; its Butterfly Pavilion will debuts on April 8 and flies right through Labor Day.
Here's a peep at last year's Butterfly Jungle.
Copyright FREEL - NBC Local Media