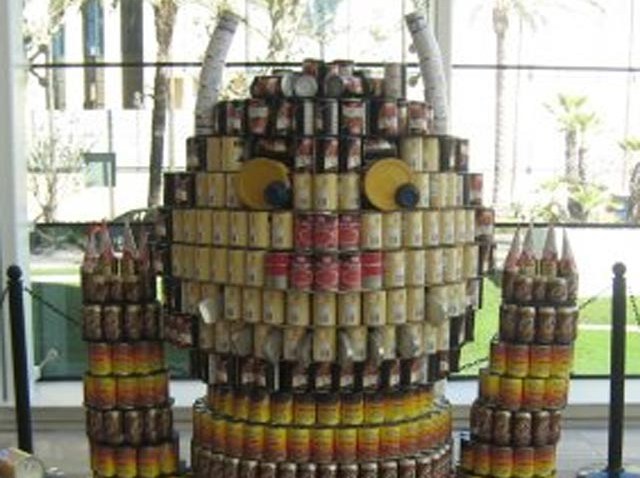 Teams of artisans have crafted an assortment of can-made works in the Variety building, and the exhibit is open to the public.
This is no amateur contest (read: no beer pyramids). Canstruction LA teams are comprised of professionals, according to the event's Faceboook page:
Organized by a collaboration of design industry leaders and AIA Los Angeles, Canstruction LA invites teams of prominent Los Angeles architects, engineers, and designers to create exciting exhibits made entirely of cans of food, to be put on public display and awarded prizes by a panel of judges.
And don't worry. All that food won't go to waste. Once the design/build contest ends, the cans will be donated to the Los Angeles Regional Foodbank.
Awards will be given out for Juror's Favorite, Best Use of Labels, Best Meal, and Structural Ingenuity.
Admission is free, but don't get cheap on us -- bring additional cans of food as your "admission."
The public exhibition is open Monday through Sunday, 8 a.m. - 6 p.m., until Nov. 15. For more photos, be sure to check out Franklin Avenue.
Canstruction LA 2009
Variety building
5900 Wilshire Building
Oct. 30 - Nov. 15
Monday-Sunday 8 a.m. - 6 p.m.