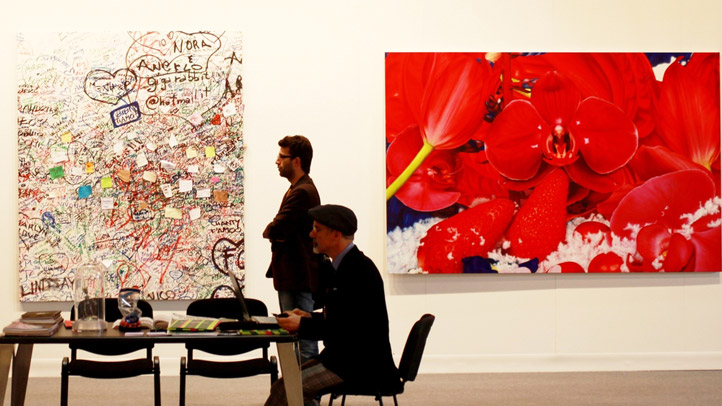 When the first Carmageddon rolled around -- or, erm, *didn't* roll around, since nobody was invited to do much rolling -- people around SoCal were a bit slow on the uptake.
Nope, we're not talking about those friends that had "a meal" in the middle of the empty 405 freeway; we're talking about the general lack of Carmageddon-related events. Sure, there were some fine restaurant and hotel deals, but that was pretty much the extent of it.
Complete Coverage: Your Carmageddon Survival Guide
But now we've been through one Carmageddon, and as we face another people are on it. And how; the deals and discounts have increased 405-fold -- or thereabouts -- while other cultural happenings are springing up.
Most notably? ArtmageddonLA, which has taken the bold stand of co-opting "-mageddon" from Carmageddon II and rounding up lots of cultural happenings where people live.
The "where people live" part is important; we've once again been asked to not drive, if possible, and not even if the idea of Carmaheaven -- the empty-ish roads that occurred last time -- tempts us.
So the ArmageddonLA people have kindly rounded up tons of in-your-neighborhood art to-dos, from plays and productions to exhibits. The City of Los Angeles, and a merry mix of other organizations, are behind the big arty push.
Some events are free, some are not, but the layout and helpful map cannot be beat. "Less Car. More ART!" is Artmageddon's full-throated rallying cry. We do love a good rallying cry, especially one as positive as this.
Let's also note that Smithsonian Museum Day Live! is on Saturday, Sept. 29, meaning lots of local institutions'll be free to get in. You'll need to get your ticket ahead of time with this one, so do that. Now. We can't truly believe the Smithsonian planned this big event to coincide with Carmageddon II, but it is certainly lucky it did. The fact is we all will have plenty to occupy us, in our neighborhoods, without making for a certain major, very closed freeway.
MORE:
Follow NBCLA for the latest LA news, events and entertainment: iPhone/iPad App | Facebook; | Twitter; | Google+; | Instagram; | RSS; | Text Alerts | Email Alerts
Copyright FREEL - NBC Local Media