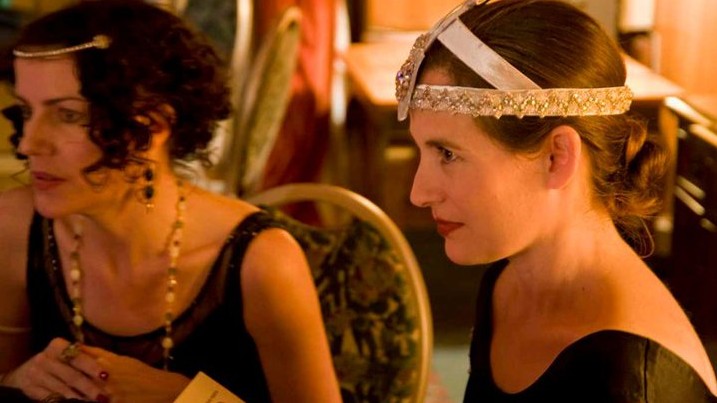 Aside from movie costumes, and outfits seen on stage, it is rare to find a dress with hem beading or sequins nowadays, right? At least in the average closet?
But there was a day when clothing had plenty more pizzazz and a hem never emerged in public without something sparkly weaved in or glued on. That day was the 1920s, at least in certain quarters, and if you long for a time when getting gussied required more sparkle, we bet we'll see you at the Los Angeles Athletic Club on Saturday, Feb. 18.
That's the night of Casino Moderne, the Art Deco Society of Los Angeles's nod to "living history" and the live-it-up side of Prohibition. Nope, you won't be smashing barrels of bourbon, but you will be wearing a flapper's gown and playing table games like roulette.
Cost is $65 for non-ADSLA members.
Now, 1920s dress isn't mandatory, say the organizers, but why in good gravy would you go to this thing without a feathery fascinator or fedora on your head? We have loads of time to wear non-wrinkled synthetic goods to our cubicles. But if we're sitting playing poker, with a Sidecar at our side, by jiminy we're going be sporting a pound of artfully placed sequins.
Side note: ADSLA says if you like "Boardwalk Empire" you'll like this night. We also recommend for those who caught the recent Ken Burns "Prohibition" documentary. It was a complicated topic, for sure, and it wasn't all drinking cocktails in glittery joints. But there was a lot of that, and there will be again, if just for one night.
Follow NBCLA for the latest LA news, events and entertainment: Twitter: @NBCLA // Facebook: NBCLA
Copyright FREEL - NBC Local Media