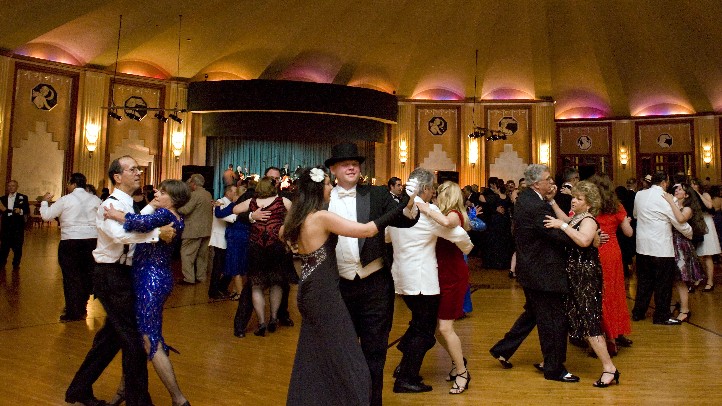 CATALINA SWEET: There are many things to admire about a certain picturesque crag of land that's about 22 miles off the coast of San Pedro. The rolly hills and the pretty buildings and the kelp forests and the flying fish and the buffalo and the Cutest Airport in All the Land. (We think that should be its official designation, by the by.) But we often find ourselves in the Catalina Island museum poring over vintage photos of dressy people swaying the night away in the Casino Ballroom. It's true that we modern folk live in a casual age, which has its pluses, but every so often one longs to gussy up and be fancy like people used to do with regularity. Thank goodness Catalina Island still offers that dream via The Avalon Ball.
Singer Kayre Morrison, photo by J. Christopher Launi
TIME MACHINE: The ball is all about summoning, in a sophisticated and fun way, decades long past. It's next set to foxtrot in the Casino Ballroom on Saturday, May 12. Dean Mora and the Avalon Ball Dance Orchestra will play the sorts of tunes you typically hear in a lavish movie musical from 1943, and the zippy Maxwell DeMille will once again play Master of Ceremonies. (Remember when dances had hosts, keeping the banter going? No, we don't either, but we do long for that era.) Above all, vintage-style dancing into the night is the name of the game here. A ticket is $45. That won't include your boat ride to and from, but look at this: A special liner is being planned to get dancers back to the mainland at the end of the night. Now that truly invokes the Catalina Island of days long past.
Copyright FREEL - NBC Local Media