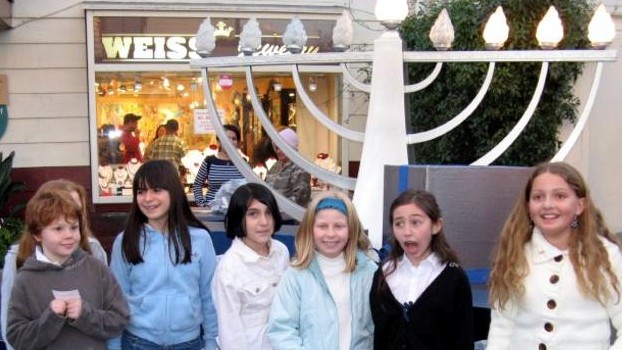 Many people join their families and friends on the first night of Hanukkah, for a bit of candle-lighting and gift-giving, but others like to take part in a larger, community party (and cheers to those revelers who take in both a public party and private, at-home celebration).
Los Angeles has several big public parties going on, so it all depends on where you're at and what you'd like to do. You might stop by...
THE LIGHTS OF HANUKKAH FAMILY TOUR: Take in the impressive display of "Hanukkah lamps in the Skirball's core exhibition, Visions and Values." Dreidel spinning is also promised. It's on every day through Saturday, Dec. 24 at 1 p.m.
FARMERS MARKET: Miracle Mile Chabad and a number of other groups will light the menorah outside the Market at 4:30 p.m. on Dec. 20. There will be a sing-along and some kid activities earlier in the day. "Help Build a Giant Lego Menorah," says the flier. That is tempting indeed!
HOLLYWOOD AND HIGHLAND: The center's large menorah will be lit each night at sundown, and full services are scheduled for Friday, Dec. 23 at 6 p.m.
WINTERLIT: Celebrate the eight nights at Santa Monica's Winterlit celebration. The Center Court on the Third Street Promenade is the location (and the lighting happens through Tuesday, Dec. 27).
PERSHING SQUARE: The festivities kick off around 8 p.m. on Tuesday, Dec. 20. Candle lighting and folk songs are part of the evening, as are bottle dancers. Everything is happening near Downtown on Ice, if you and the family want to stay and take in some skating (or get your skating in before the lighting).
Copyright FREEL - NBC Local Media