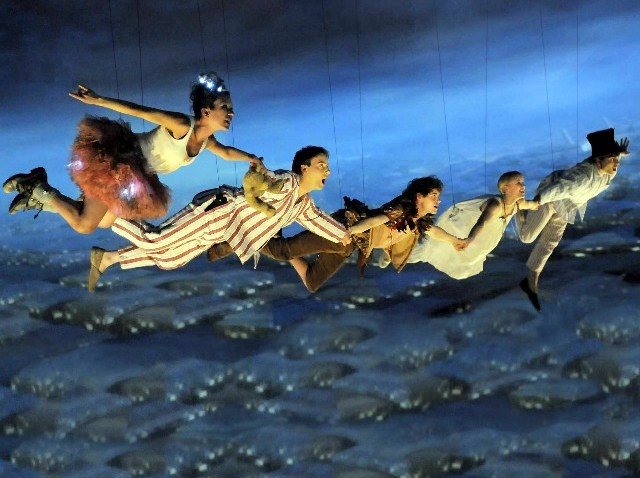 Cirque du Soleil may be bidding adieu to its big top, at least when it alights at the Kodak Theatre in 2011.
But that doesn't mean other large-scale productions aren't going the big-top route and teching up the theater world, with CG-y touches and video and other wow-inducing wizardry. One such show is "Peter Pan," and it is touching down under a huge big top at the Orange County Performing Arts Center on Tuesday, Sept. 28. Official opening night is Sunday, Oct. 3.
If the thought that the actor-carrying-strings of "Peter Pan" may be scotched in a tech-heavy show is pulling your strings, don't let it. The strings are still there. Thank goodness. Joining the classic strings, however, is a "more than 15,000 square feet of High-Resolution video." And, the major headline: "the world's first 360-degree CGI theater set."
Tinkerbell's got a run for her money on the magic-making front, clearly.
If you're hoping that this production might touch down somewhere in LA, that's never(land) going to happen, at least on this run; OCPAC is its sole Southern California stop. It's already been to San Francisco, and, appropriately enough, London.
"Peter Pan" is a presentation of threesixty, and runs at OCPAC through Nov. 21, 2010.
Copyright FREEL - NBC Local Media