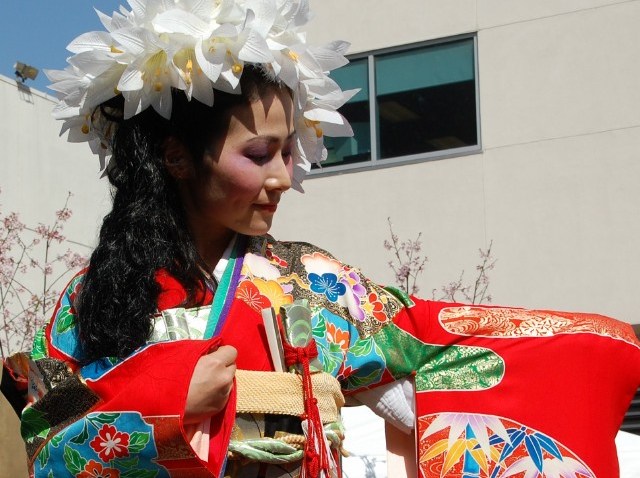 While many weekend-long festivals will spotlight one wonderful thing -- say, painting -- the two-day Cherry Blossom Festival in Little Tokyo covers a lot of ground.
The "non-stop" martial arts action is always a big draw. The Most Photogenic Dog contest draws oohers-and-aahers, and the beer and sake garden stays busy.
But the elegant Odori dancing is also huge. So huge that there's a full-scale lesson, in the middle of the street, for anyone who is keen to learn the traditional moves. We've never had a dance lesson in a street, before; feels a bit like the start of a movie. Very cinematic.
Also a must: the Cultural Pavilion. The Hawaiian Village. Pop performances with an anime vibe. And all the eats. We've mentioned our devotion to the bean-cake'd goodness of imagawayaki in the past. A Little Tokyo favorite, but the choices, as always, will be plentiful.
The festival dates are Saturday, April 10 and Sunday, April 11.
Two things. It's a free festival. Thank you, kind organizers and volunteers. And two: About 45,000 people attended in '09, meaning you'll want to think about Metro or parking options.
Copyright FREEL - NBC Local Media