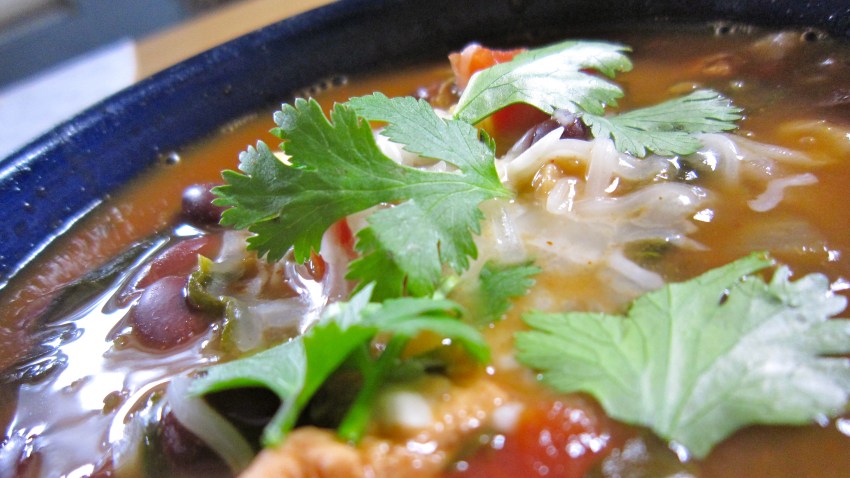 Ingredients:
1 medium red onion, diced
1 tsp. garlic, chopped
2 tsp. olive oil
1 tsp. ground cumin
2 Tbsp. ground chili powder
6 cups reduced sodium organic chicken broth
1 1/2 cups frozen corn kernels
1 can (15 oz.) Mexican style chopped tomatoes
2 (15 oz.) cans drained and rinsed black beans
5 corn tortillas
3 small zucchini, ¼ inch diced
2 chicken breasts, cooked and shredded or diced (optional, dish can be made vegetarian, omit chicken and add extra can of black beans)
2 Tbsp. cilantro, chopped
1/2 cup low-fat Jack cheese, shredded

Directions:
1. In large soup pan, heat olive oil; sauté onions, garlic, cumin and chili powder until onions are soft (add 1-2 Tbsp. water if necessary).
2. Add broth, corn, tomatoes, and beans. Bring to a boil then reduce heat and simmer 5-10 minutes. Add shredded chicken and diced zucchini.
3. Meanwhile, stack tortillas together and slice in 1/4 inch wide strips. Place on baking sheet sprayed with canola or olive oil spray and lightly salt. Bake at 400 degrees F for 10 – 15 minutes, until crisp.
4. Ladle soup into serving cups, top with tortilla strips fresh cilantro and shredded cheese.
Serves: 6
Serving Size: 2 cups
Calories per serving: 450
Calorie equivalent: 4 oz. protein, 2 carbohydrates, 1 vegetable, 1 fat
Recipe courtesy California Health & Longevity Institute