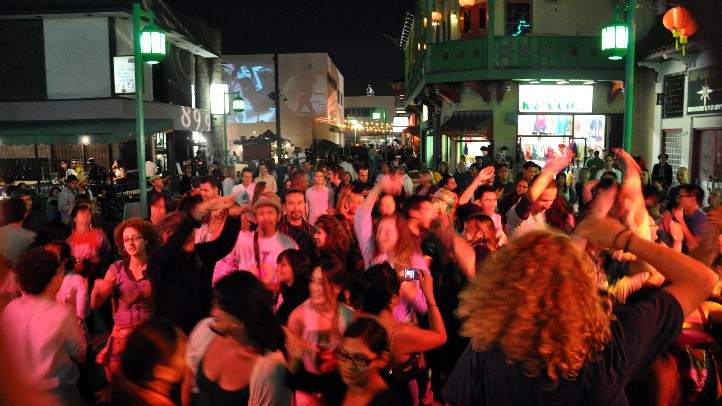 Labor Day is close. It's practically scooched into our personal space. It's officially calling summer over and done with.
But what can this be? One more summertime festival that has yet to even start? Don't tell Labor Day, because it might get huffy. Warm-weather parties should be wrapping up right now, not beginning. And yet we have Chinatown Summer Nights, a two-fer bash that's set to take over the area's historic core on Saturday, Aug. 27 and Saturday, Sept. 10.
A Chinatown Summer Night, like the season it pays tribute to, is not about one thing. There's dancing -- KCRW is a backer -- and food truckery and calligraphy workshops and shopping and Ping Pong playing and "live cultural performances" that draw athletic acrobats and people who do all sorts of wizbang things. Now picture those wizbang things being done in Chinatown's neon-soft Central Plaza. You're pre-feeling the beauty here, right?
The celebrating gets going at 5 p.m. on both dates and goes through midnight. Usually we'd recommend that an attendee choose a chunk of time to visit, but the schedules are so full that you might want to arrive at opening and stay as late as possible. Wear comfy shoes.
Wait. The second Chinatown Summer Night is actually happening *after* Labor Day. A summer soiree deep in September? More of that, please.
Copyright FREEL - NBC Local Media