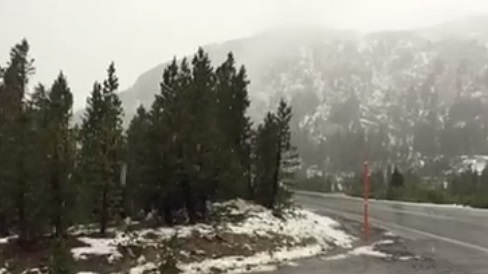 THERE'S COLD STUFF AND THERE'S WHITE STUFF... that are common sights near the start of July. The cold end of things might include ice cubes in your lemonade or a pool at sunrise or an air-conditioning unit that's pumped up to "extra high" due to extreme heat outside. As for the white stuff? Vanilla ice cream cones and slices of provolone for burgers just off the grill and wild daisies, the kind that pop up in warmer weather, spring to mind. But rarely do we residents of the Northern Hemisphere equate "July" and "snowfall" and most definitely not around the Golden State, which is kicking into high, golden, sandy-beached gear come the first full month of summer.
WE'LL HAVE TO CHANGE OUR OPINION HERE... however, since the Tioga Pass, which is most definitely within California's borders, is enjoying a surprise snowfall as of this July 9 typing. True, the high-through-the-Sierra road is generally closed for much of the year, with a springtime opening and a fall closure, but people who want to get from Highway 395 in the Eastern Sierra into Yosemite Valley, or onto Sacramento or San Francisco, can typically count on the Tioga Pass to be meadow-beautiful, sunny-flowery, and snowfall-free come early July. Or are July 8 and 9, the dates thus far of the snow, almost mid-July? Is it snowing in the Sierra in mid-July, then? And we thought "Christmas in July" was reserved for store sales and movie theater promotions.
"THE PEAKS ARE SNOWY"... say the Mono County tourism people. They also reveal via Facebook that Tioga Pass closed briefly overnight due to the weather but reopened in the morning. Still, if the mountains are part of your weekend getaway -- perhaps you're doing that sunrise gondola up to Mammoth Mountain on July 11 -- it is worth checking in with the California Department of Transportation's current highway conditions first.
Copyright FREEL - NBC Local Media