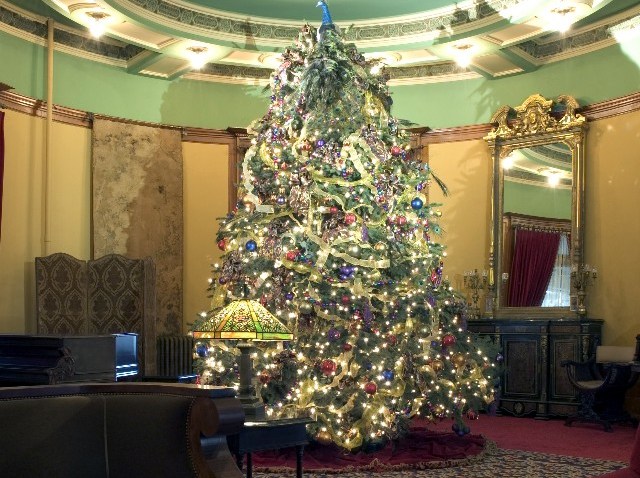 "Where do you get your ideas" is likely one of the best, the most frequent, and the oddest questions a creative type gets.
After all, an idea can come all at once from a very small thing. Or it can trickle in, over weeks or months, courtesy of the place you call home.
We've visited Castle Green in Pasadena at the holidays, and it is impossible not to wonder if former resident Tim Burton wasn't on the receiving end of some castle-y magic. (We heard he did a particularly well-received Christmas-themed movie once upon a time.) The turreted, semi-foreboding, highly cinematic beauty of a building just seems to easily impart inspiration, to visitors and live-in-ers and future "The-Nightmare-Before-Christmas"-ers alike.
(By the by, semi-foreboding=big compliment. If you're a Burton fan, you know this.)
Castle Green's annual holiday tour is on Sunday, Dec. 5, the cost is $20, and we encourage all Tim Burton buffs who like very old and very bold buildings to take it and see if they sense that inspiration, too. The history of the Raymond Avenue landmark is full of famous names and fancy swells -- oh, and other major directors, too (David Lynch filmed part of "Wild at Heart" in the lobby), so if you like landmarks or swells or "Wild at Heart" or Pasadena-flavored atmos, go.
You may not see Jack Skellington step out from behind the lobby fir while singing, but you'll sense the mysterious vibe that continues to inspire the nook-filled castle's artistic residents.
Copyright FREEL - NBC Local Media