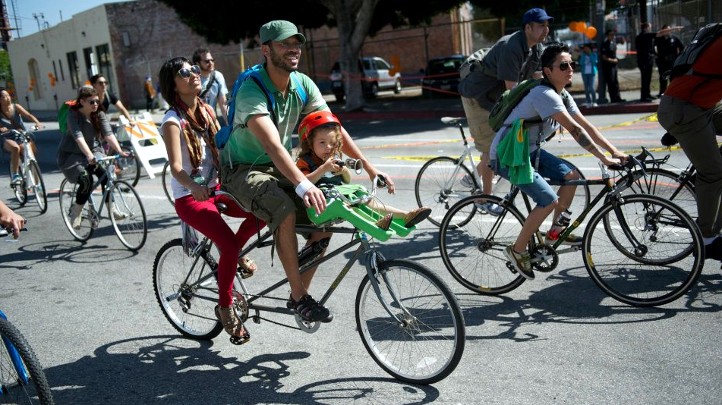 CicLAvia, the every-so-often free bike ride that circles, slowly and sweetly, through downtown and nearby MacArthur Park?
It's popular, oh boy; thousands show up, helmets and flowery baskets attached, to roll their cycles down car-less streets. It's community-building, oh boy; organizations and businesses dot the route and interact with cyclists in all the friendly ways. And it's free, oh boy; we mentioned that once but it is worth saying again.
So when changes come to an easy, free-spirited day out, the new stuff stands out. And the Sunday, Oct. 7 CicLAvia -- the event's fifth iteration since starting in October 2010 -- has a few changes on offer.
One? The date changed, awhile back, from mid-October, and for a very interesting reason: The ride's helmers wanted to steer clear of Endeavour rolling through or near downtown. Remember Endeavor, when all of Los Angeles went outside around noon on a Friday and felt magical wonder? We do.
The other major update? A new route.
Exposition Park, Chinatown, and Mariachi Plaza are three new sites mentioned, with a leg down Figueroa Street. But take heart, MacArthur mavens: Your favorite park is not only in the mix but a ride hub.
As always, cultural happenings, food trucks, information booths, and interesting stops will tempt you to put the brakes on your bike from time to time.
CicLAvia rolls on Sunday, Oct. 7 from 10 a.m. to 3 p.m.
Should we also note this just might be our first true fall weekend, temp-wise? Makes the rollin' fine, that's for sure. An we might also remember this ride's particularly timely tagline: "From Carmageddon to Shangri-La."
Pretty cute, CicLAvia. Pretty cute.
Follow NBCLA for the latest LA news, events and entertainment: iPhone/iPad App | Facebook; | Twitter; | Google+; | Instagram; | RSS; | Text Alerts | Email Alerts
Copyright FREEL - NBC Local Media