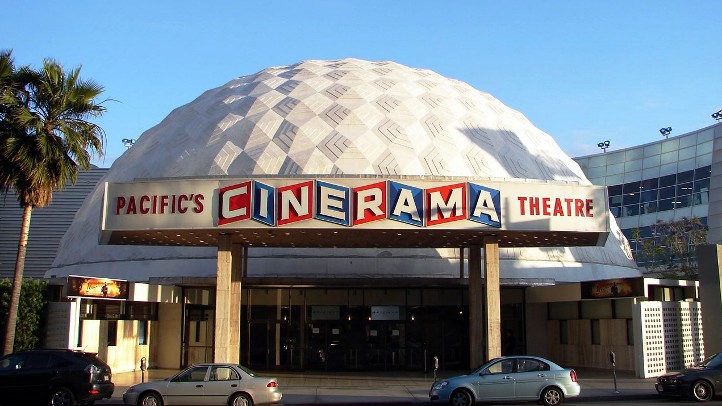 There was a day when inventiveness and inspiration seized the standard film process in a big, outlandish way. We're talking about the age of Technicolor and VistaVision and Kinopanorama and, yes, even Smell-O-Vision, a word that is as fun to type as it is to say.
But the mid-century movie marvel that likely remains closest to many Angelenos' film-loving hearts is Cinerama, given that the Cinerama Dome still grandly occupies the same Sunset Boulevard spot it has held for nearly a half century.
The film process known as Cinerama, which involved three 35mm projectors simultaneously throwing images on a massive curved screen, is older than our dome by a decade. It's turning 60 this year, in fact, and one of its most famous symbols is ready to celebrate that fact.
From Friday, Sept. 28 through Thursday, Oct. 4 the Cinerama Dome will screen a dozen films to mark the anniversary. "How The West Was Won" is famously on there, as is "Seven Wonders of the World." The other films run the gamut from familiar -- "2001: A Space Odyssey" -- to vintage treats with the word "Cinerama" in their very names.
The ArcLight, which abuts the dome, says this is the "First & Only" time a dozen of these films will screen together. Yep, they've shown one-offs before -- we remember seeing "West" nearly a decade ago, in all of its dusty-trail bigness -- but this is the largest collection of Cinerama gems shown in a row yet.
"In the Picture," the "first film shot in Cinerama in 50 years," will also receive its world premiere during the week. Can the day of Cinerama be coming back? Fingers crossed, although we might be eager to revisit Smell-O-Vision, too.
And, in case you didn't know (but you probably do): The landmark dome is made up of 316 hexagons and pentagons, both.
Follow NBCLA for the latest LA news, events and entertainment: iPhone/iPad App | Facebook; | Twitter; | Google+; | Instagram; | RSS; | Text Alerts | Email Alerts
Copyright FREEL - NBC Local Media