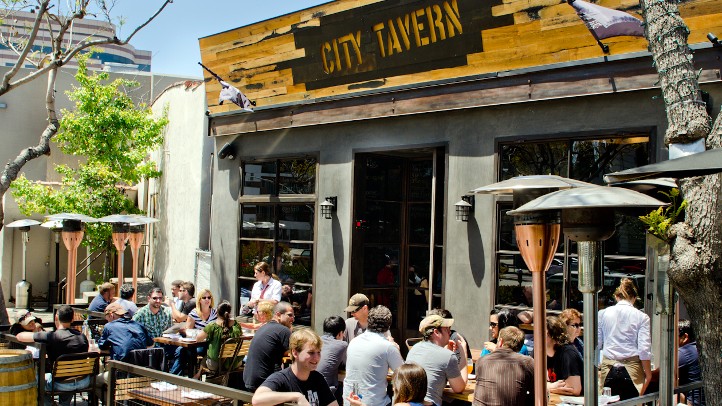 It isn't a common occurrence but, when it happens, it is well worth noting. Of what do we speak? The anniversary celebration that's open to those who can't claim the anniversary as their own.
But in the restaurant world it does happen, and thank goodness, because those celebrations very often come with specials and tonight-only drinks and a general convivial atmosphere.
First up and on now? Koi's 10th. The La Cienega hotspot -- we know, we know, "hotspot" is a word that is much bandied about but if you don't see photos of celebrities at Koi, you're not reading magazines or watching television -- introduced a tasty dish to honor its first decade.
On the anniversary menu? The Koi Crispy Rice Flight. It covers a lot of what the eatery is known for and does best, like Kobe beef, Crunchy Spicy Yellowtail, and Creamy Lobster. It's $16. Photo below. Hello.
City Tavern of Culver City still has nine years to go to catch up to Koi's decade marker, but the suds-laden favorite is doing up its party on Tuesday, April 3 with an Anniversary Cocktail for nine bucks (think bubbly and cherry bitters) and a sampler board of savory bites.
Best of all? It's raising money for the Culver City Historical Society. There's a lot of fascinating and, let's be honest, saucy stories surrounding some of the ye olde taverns of the town, so we want to keep that society fit as a fiddle and researching away, right? So go out on April 3, raise a glass, and lend a hand.
Follow NBCLA for the latest LA news, events and entertainment: Twitter: @NBCLA // Facebook: NBCLA
Copyright FREEL - NBC Local Media