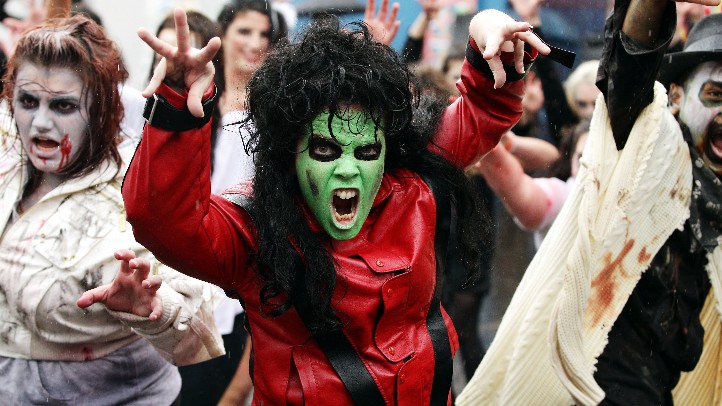 Theories about Halloween parties? We have several. A trio of favorites:
1. At least five people will dress as presidential candidates in an election year. Chummy, cross-party photos shall ensue.
2. Bobbing for apples is a better idea in theory than in practice. (That said, you gotta do it, right?)
3. Someone, at some point, will break out some "Thriller" moves. Whether the dancer is deemed to have skillz or not will depend very much on the amount of punch/candy the crowd has imbibed.
"Thriller," since its MTV debut nearly 29 (!) years ago, has become a pop culture sensation, both for Michael Jackson's sharp-edged steps, the zombies' sideways claw dance, and Vincent Price's memorable narration. Meaning? Practically everyone who has seen it, which is practically everyone, tries to get their undead on at some point during the Halloween season.
Watching Thrill the World LA, the mass monster dance that is set to go down at Marina Green in Long Beach on Saturday, Oct. 27, is one way to summon the zombie magic. Dancers and non-dancers and enthusiastic participants who fall somewhere in-between have been practicing their fright faces and claw hands all month long. It's a flash mob-type thing, so it is free to spectate. Want to join in next year? You can, but you ghosties have to practice first before you get down and get funky. Take note.
If you actually want to learn all the moves this year, there's that possibility, too: Kim Blank, one of the dancers from the video, is teaching her annual "Thriller" dance class at Swerve Studio on West Third. That's also happening on Saturday, Oct. 27.
The class fills up, so get on those reservations ($20 advance). A few tips? Some ghouls show with some creepy make-up, which is fun, but wear comfy clothes and/or dance togs -- you'll be sweating something spooky, in a good way. Ms. Blank takes you move-by-move through the main heart of the video, and shares a making-of few stories along the way.
And here's number four on our Halloween party theory list: It's impossible not to sing the word "Thrillaaaaah" over and over when you start thinking about the song. Thrillaaaaah! See?
Follow NBCLA for the latest LA news, events and entertainment: iPhone/iPad App | Facebook; | Twitter; | Google+; | Instagram; | RSS; | Text Alerts | Email Alerts
Copyright FREEL - NBC Local Media