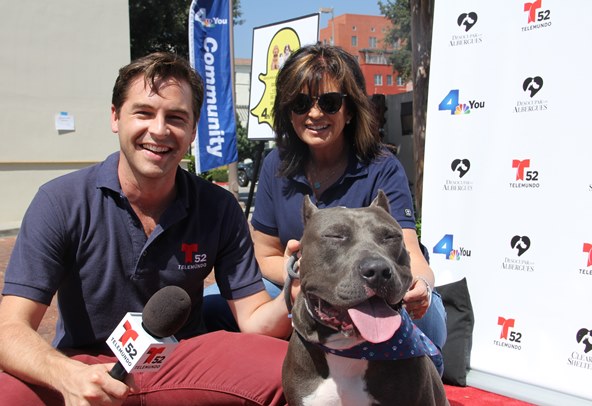 NBC4 Southern California and Telemundo 52 Los Angeles third annual Clear the Shelters pet adoption campaign resulted in more than 10,500 adoptions throughout the Southland. The month-long initiative culminated on August 19 across more than 60 animal shelters and attracted record-setting crowds in five counties.
Nationally, the Clear the Shelters campaign generated more than 70,000 pet adoptions, and more than 140,000 adoptions since its inception in 2015. Clear the Shelters is a nationwide initiative led by NBCUniversal Owned Television Stations.
"This year's success is unprecedented, resulting in a significant increase in adoptions over last year," said Steve Carlston, President and General Manager of NBC4 Southern California. "We're thrilled to see the outpouring of responses from families looking for pets."
"The response was incredible this year," said Celia Chavez, President and General Manager of Telemundo 52. "I'm so proud of how our community came together and helped thousands of animals find their new home."
A 30-minute special, "Clear the Shelters," will feature celebrities with their pets and recaps of this year's campaign. Best-selling author and animal lover Beth Stern and author Katie Lee, host of Cooking Channel's Beach Bites and The Kitchen, will co-host the program on NBC4, August 25 at 7:30 p.m.
Stephanie Himonidis "Chiquibaby" and Elva Saray, hosts of Telemundo 52's Acceso Total, popular weekday entertainment and lifestyle program, will present a special that will air on Telemundo 52, August 26 at 12 p.m.
For those still looking to adopt a pet, visit NBCLA.com/cleartheshelters and Telemundo52.com/desocuparlosalbergues for a map of local shelters. The sites also feature dozens of photos and adoption day highlights.