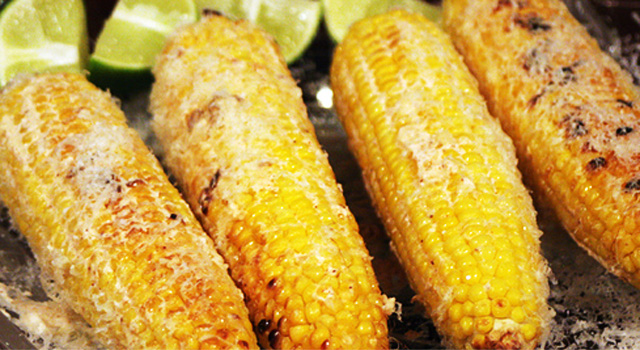 Corn is that rare food that can be served either sweet or savory (yeah, we're thinking of you, too, peanut butter). Make a corn pudding and you've got dessert. Or grill some cobs for your savory side.
What this all adds up to is that the summer-into-fall food has a way of re-experiencing foodie renaissances, again and again, which makes sense, given its versatile nature. And while autumn around Southern California means more fresh corn stands and more places to buy cobs slathered in mayo, cotija cheese, and hot sauce -- the perfect corn eat, to us -- restaurants are taking an interesting route, too.
And that route often involves cheese, which might be, in the end, the ideal corn complement. Baby Blues BBQ of Venice and Hollywood is serving a corn on the cob speckled with blue cheese. A-Frame on Washington Boulevard is doing the mayo thing, but it is sesame mayo; there's also butter and kaffir lime salt involved, too. And the recently debuted ROFL Cafe on Melrose does its cobs up with chipotle aioli, sumac, and parmesan.
This is a trend we shall stick a cob in the air over and wave, happily. Yep, we love to catch a stand or two while driving the backroads of the IE -- we're looking at you, Oak Glen and Yucaipa -- but taking our cobs in town works, too.
Of course, there's always the LA County Fair, which opens on Friday, Aug. 31, for our corn fix. Do you eat the grilled corn there, and wonder who gets lemon pepper all over the condiment table? Hi, that's us. Sorry.
Follow NBCLA for the latest LA news, events and entertainment: iPhone/iPad App | Facebook; | Twitter; | Google+; | Instagram; | RSS; | Text Alerts | Email Alerts
Copyright FREEL - NBC Local Media