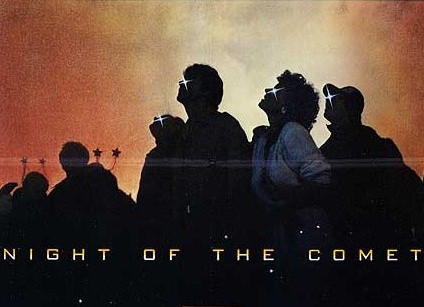 Astronomical hijinks, post-apocalyptic cinema-feasting, and outlandish costumes are all converging on one special night.
Oh, and free, logo-emblazoned water bottles, too.
On Friday, March 26, the Cinefamily will be showing a trio of post-apocalyptic-ish films, all in a row: "The Last Man on Earth," "Night of the Comet," and "The Omega Man." The location is Silent Movie Theatre.
Does it mean something that three other apocalyptic classics -- the "Mad Max" movies -- are all screening at American Cinematheque, which is not all that far from Silent Movie, on the very same night?
Chills zone.
Two things to say. Costumes are encouraged for the Cinefamily event. Of course. If your post-apocalyptic get-up is deemed the best, Cinefamily will give you a bundle of prize-y things, including a special Cinefamily water bottle, which you will need if you need to set out over the desert with just your dog for several days.
"A Boy and His Dog" reference. Best post-apocalypse movie ever? Up there, for sure.
The other thing to say. The made-in-1984 "Night of the Comet" takes place all over Los Angeles and if you haven't seen it, change that fact. Big hair, big clothes, sassy Valley-Girl dialogue. Plus, a sighting of the El Rey, and other local landmarks.
Best give your post-apocalyptic costume some leg warmers and sparkly shoe laces.
Copyright FREEL - NBC Local Media