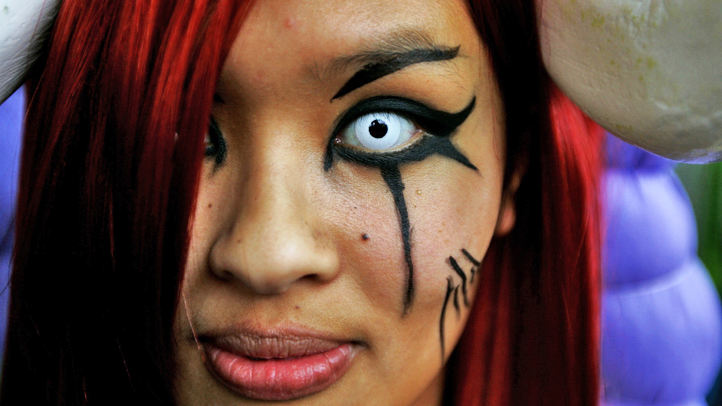 Thousands of people will converge on downtown San Diego as Comic-Con 2011 opens for its first full day Thursday.
Hours before the doors opened, hundreds of people lined up to pick up badges or just to be one of the first to enter the San Diego Convention Center this year.
"It's a great place for people... whether you're interested in movies, books, comic books... everyone just gets together to express themselves," said Josh of Escondido.
Preview Night on Wednesday offered fans a look inside the main floor.
Despite the change to limit Preview Night to only those holding a four-day pass with the Preview Night option, it was still shoulder-to-shoulder chaos.
Here are some of the highlights:
Marvel's displaying the Helicarrier that will be used in "The Avengers." Watch for S.H.I.E.L.D. agents roaming around.
Over at the Hot Wheels area, there's a cool replica of the DeLorean from the "Back to the Future" films.
Warner Bros. toned down their participation this year. Sure, they're co-creators of the souvenir bags but their space on the main floor focus on DC Comics.
There's a lot going on with Sony Pictures this year. Upcoming films "The Amazing Spider-Man," "Ghost Rider: Spirit of Vengeance," "Men in Black III" and "30 Minutes or Less" -- just to name a few.
Summit Entertainment with its "Twilight" and "Three Musketeers" franchises were handing out fake swords that turned out to be a hot commodity.
"There is going to be a lot of screaming going on I'm sure," said Allye Nomura, one of the many fans of "The Twilight Saga: Breaking Dawn" fans who lined up well in advance of Thursday's panel.
Nomura is hoping to see one of the main stars of the Twilight series.
On the Comic-Con Facebook page, there were some complaints about the time spent waiting in line to pick up pre-registered badges.
However, talk to those who have their badges and you can feel the excitement about what the weekend is going to bring.