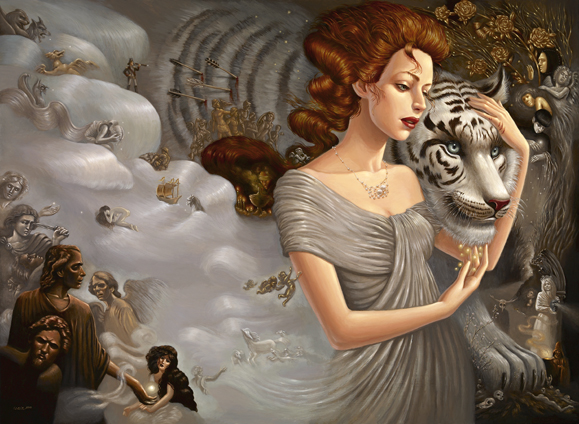 Taking the art world by storm, three female artists are combining their creative power in an opening showcase Saturday at the Corey Helford Gallery in Culver City.
Artists Korin Faught, Krista Huot and Mia are each bringing their perspective to the gallery, as well as their shared, distinctly feminine point of view.
Colorado-native Faught is strongly inspired by fashion, including styling, fabrics and different textiles. Her paintings feature women lounging on the beach while a looming darkness is clearly present on the periphery. Her innocent bathing beauties surrounding by shadows are an expression of the play of lightness and darkness and the juxtaposition of playful scenes with otherwise sinister moods.
"Unease surrounds the brightly colored, bird-like women," said Faught in a news release. "They are innocent and unwitting victims who perch on the edge of peril, easily consumed by looming night."
Also featuring innocent female protagonist, Canadian Krista Huot brings her work back to the Corey Helford Gallery for a second exhibit, further exploring her fascination with fairy tales, storybooks and inspired by animation, creates whimsical and delicate scenes.
Spending formative years in the forests of British Columbia, Faught's paintings link her mythical nymphs, fairies and folklore legends to a relationship with nature. Her connection with nature also extends to her materials, often using wood in the place of canvas and eco-friendly walnut oils.
Her paintings often feature scenes from fairy-tale staples such as Snow White, Alice in Wonderland, Cinderella and Rapunzel, as well as her own take on legendary stories like Romeo and Juliet, the Bible and stories from Greek mythology. Although her subjects are sweet, her paintings also exude a Gothic feel, by shadows and muted backdrops.
Also exuding a powerful female vibe, Los Angeles-native Mia is presenting her work for a third time at the Corey Helford Gallery. Her work plays with extremely detailed female protagonists, sometimes antagonists, and the dynamics of light and dark connecting with visibility and invisibility. Her work plays up fantastical elements, creating symbolic imagery and mystery, granting her scenes their own graceful power.
In an interview with Andrew Ford for Juxtapoz magazine, Mia said that her inspiration comes a mix of sources.
"I take inspiration from nearly every form of art imaginable: music, animation, fashion, comics, poetry, literature, silent films, vintage photography," she said. "I soak it all up like a sponge and try to use every bit of it."
The reception is open to the public Saturday Sept. 25 from 7 to 10 p.m. and the showcase will be on view until Oct. 16.