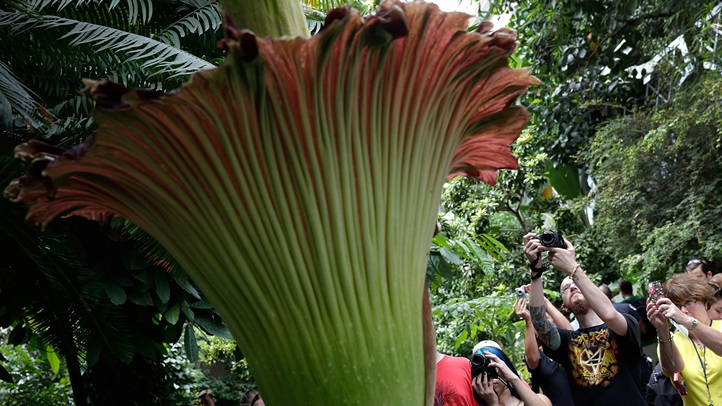 "RARE" IS NOT RARE... at least when it comes to corpse flowers. The word "rare" is probably the word you're most likely to see in any headline or news item dealing with the enormous, over-sized, oh-so-smelly buds. But this makes sense given the fact that corpse flowers are not exactly as commonplace as, say, daisies. Nor do daisies effuse an odor that bystanders would describe as deathly or so gasp-inducing that one must pinch their nose in the flower's presence. This rarity, and rare foul funk, makes the corpse flower -- or Titan Arum, if you prefer -- quite the crowd-pleaser when one does bloom. And one is about to, in Santa Barbara, following on the flowery heels -- or, um, petals -- of the giant that just unfurled in Washington D.C. earlier this week.
CORPSE 411: It's actually a "huge perennial herb," says the University of California Santa Barbara Public Affairs site, which gives you one clue as to where you'll need to head to see the flower when it does burst. It's located at the UCSB greenhouse, and researchers are keeping an eye on its "frilly outer skirt" which is really just a "modified leaf" for signs that the smell -- and show -- are soon to come. And once the bloom starts the admiring must commence and commence quickly: The bloom's full glory can last for as little as two days. Pair that with the fact that a bloom can be seven to ten years in the making.
Oof. But the show, though short, is a splashy one: Titan Arum, which hails from Indonesia, can push to ten feet in height. Meaning? You'll probably never get one in a bouquet from the local florist.
MEET THE SB FLOWER: There's a live feed up on the UCSB site to keep up-to-the-minute track of the flowering sitch. (Well, a new photo goes up every five minutes.) Once the flower blooms, visiting hour updates will be posted on Chanel's Facebook page. Oh, wait, that's a quirky bit of info: Chanel is the name of this particular corpse flower. Cute, yes? And a little cheeky. Chanel, by the way, is one of four Titan Arums at UCSB, and "is the progeny of Tiny," another in-house corpse flower. Did you see Tiny bloom back in 2002? If so, best check out her star offspring Chanel when the malodorous magic starts to happen.
Pictured: The recent Washington D.C. Titan Arum bloom (top, cr: Getty); UCSB greenhouse manager Danica Taber with Chanel on Monday, July 22 (bottom, cr: Sonia Fernandez)
Copyright FREEL - NBC Local Media