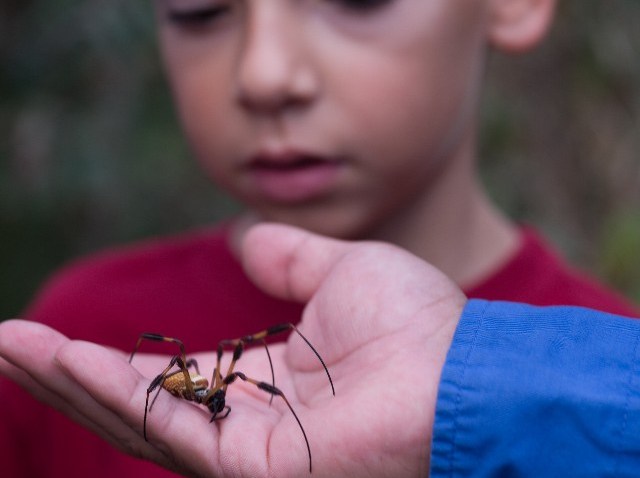 Oh, it was about last year at this time that we recommended the Natural History Museum's Spider Pavilion as a great date night. Thought: Your guy or gal would get a little scared and hold you in his or her personal web as you ventured through.
We still stand by this suggestion, but we'll make a further recommendation this year. Spider Pavilion, which is, in fact, a pavilion full of spiders, makes its 2010 debut on Sunday, Sept. 26 at the Natural History, and we think it is a fine way to put things in perspective. Beyond getting educated and learning more about our arachnid friends, of course.
What do we mean about perspective? We're talking about you getting unnaturally willied-out over the teensy garden spider that's set up shop by your mailbox. That's no big deal, right?
But there are several big deals, of the best sort, scrambling about the Pavilion. Meet eight-leggedies like a Golden Silk Spider and a Jewel Garden Spider and Common Orb Weavers (we hope they never realize that "common" is in their name).
It's the perfect fall outing for a family, for a date, for people grappling with their be-willied-ness. Spiders are good and helpful. No, we won't cuddle up on the couch at night with one, willingly, during "Jeopardy," but they are certainly welcome to take residence in the shrubbery and web it up all they like.
The Spider Pavilion is at the Natural History Museum from Sept. 26 through Nov. 7, 2010. An adult ticket is $3.
Copyright FREEL - NBC Local Media