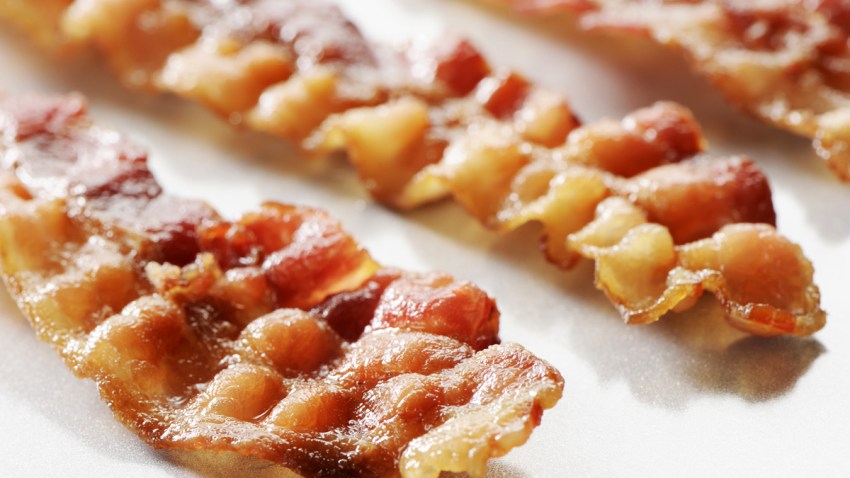 THAT HOT EIGHTH MONTH: Some weather watchers claim that a Southern California summer doesn't quite kick into high, heat-heavy gear before the arrival of August. It seems late when compared with other places, but consider that our May and June can bring the gloom and July, quite often, can't quite commit to leaving the gray days fully behind. But that first week of August? Almost without fail it is fiery. Chrome fenders, metal mailboxes, and even the sidewalk is not for touching, if one can help it. And ice cube consumption? Sweaty sippers aren't even waiting to stick the cold chunks in drinks; eating 'em straight from the icebox is an acceptable August cool-down snack. It makes total sense, then, that a foodstuff that is synonymous with sizzle would sizzle up that sizzliest stretch of the year. Add to this the fact that this food is also summer-specific, in many ways, what with the amount of times we see it atop burgers and mixed into potato salads. It's bacon we speak of, but then you knew that. But did you know a certain big boat, a vessel that is permanently at home in Long Beach, is the sizzly setting for one of the biggest bacon parties of the year? You do if you follow the
QUEEN MARY... and all of its adventures (not of the at-sea kind, of course, but the cuisine kind). The Big Bite Bacon Fest returns for another year, and it kicks August off in a crispy way: Aug. 1 and 2 are the dates. Tickets are now on sale, and they'll get gobbled up as fast as a double bacon omelet, if past outings are any proof. Why? Because baconists love munching on a wide array of snackage, and 2015 tasting event will see representation from Sweet Lou's BBQ Truck, OC Donut Bar, Hula's Hawaiian, and several other bacon-proud places and bacon-masterful chefs. Will there be sweet served with the salty stuff? That's gone beyond trend territory into "the way things are now" land, so yes. Will you try an assortment of smoky, spicy, and other fresh flavors among the strips you munch upon? The variety is real at this thing.
TICKETS... are thirty five bucks. Ready to advance into August, that most sizzly time of the SoCal year, with some extra heat? Follow the popping/crisping sounds to Long Beach.
Copyright FREEL - NBC Local Media