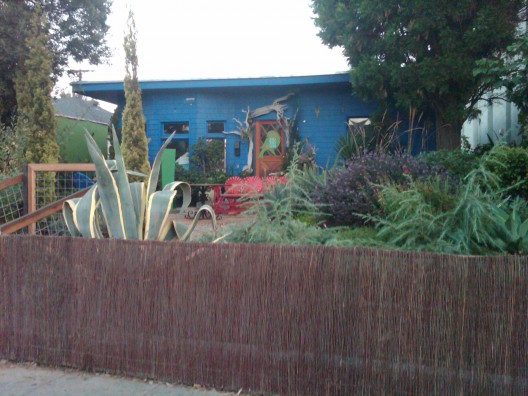 Venice
: Venice Beach Wines owner
Oscar Hermosillo
thought he had the right idea late last year when the economy tanked and his small, nay, tiny wine shop and eatery opened, and continued to remain jam-packed night after night.
The interior of VBW has a mere deli case and about 3 feel of wiggle room for the chef to assemble seasonal salads, sandwiches, charcuterie and a dessert here and there. No seating whatsoever but a solid selection of wine and some mighty good craft beers do live inside. All the lounging takes place on a covered exterior patio with benches and small tables, also terribly small for the crowd that attempts to squeeze itself into the space.
So, Oscar was faced with the decision to either run VBW in this overpopulated soft of way, or try and find some fresh new real estate to grow his little libation locale. Oscar picked the latter and was lucky enough to find a larger piece of property just across the street also on Rose in the old Big Red Sun space.
Wow, SO much more room here. While the shop is currently under construction, it's expected to open as VBW 2.0 within the next two months, though there is still much work that needs to be done. Don't fret, Oscar will keep the original flagship spot, but now, take a peek at the above photos, and check out the huge outdoor patio/succulents garden he can play with, which seems like a perfect transition from the original space. While everyone over at VBW is keeping mum on the project, we're guessing that this new abode will have a larger kitchen which will probably result in a more comprehensive dinner-oriented menu, yay! [EaterWire]
Copyright EATRL