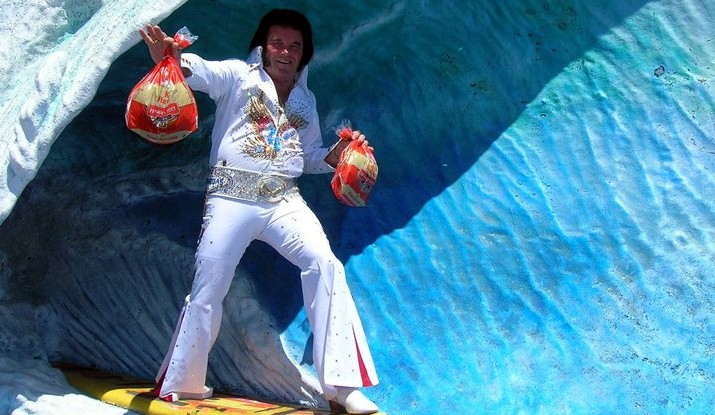 The Elvis in Hollywood Tribute Day has been on a lot of radars for the better part of the summer. That's because the OC Marketplace event doesn't just summon one jumpsuited crooner but many. And seeing a bevy of Elvises -- Elvii, if you prefer -- in one spot is a truly irresistible possibility.
But it turns out there's a whole food dimension to the day. Oh yeah.
Maybe we were staring at the sparkly jumpsuits. Maybe we were thinking about all those hip shakes (if anyone in the audience counts how many hip shakes go down during the day, please report back). Or maybe we got to pondering Tall Elvis, the King on stilts, who is set to make a rather noticeable cameo.
Maybe. But the Sunday, Aug. 21 event will be cooking up the fried peanut butter and banana sandwiches, Memphis Mac & Cheese, and Hawaiian Shaved Ice. Foods named after favorite songs'll be on the menu as well.
Now. You know Elvis liked his fried peanut butter and banana sandwiches. We all know that. But have you ever tried one? In the presence of an Elvisalike or two? We're simply asking.
This event has us wondering if more food festivals could spin off from legends or major movies. People like icons and they like eating from paper boats. There's an important pairing at work here.
Entrance to Elvis in Hollywood is two bucks; food additional.
Copyright FREEL - NBC Local Media