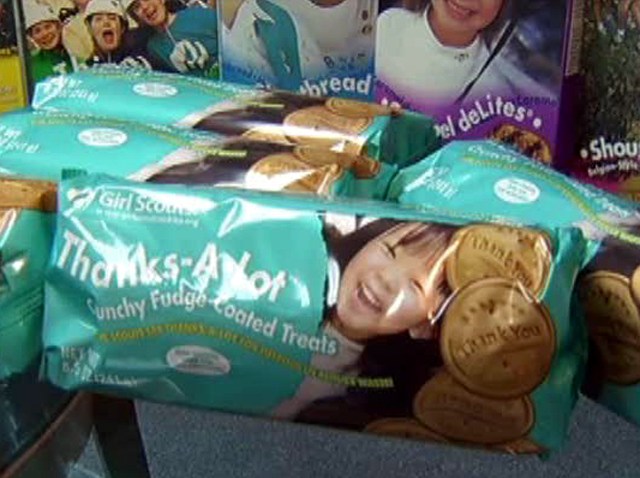 To freezer or not to freezer? That really isn't the question when it comes to the famous Thin Mint cookies, which are sold by the Girl Scouts each and every year.
Because. Freezer. Always freezer. It makes the minty qualities even sprightlier, if that's even possible.
Many people will be indulging in the little lovely discs, and Do-Si-Dos, and Samoas, and all of those tasty treats that appear during a very special, always short part of the year.
We're now officially in that part of the year. The Girl Scouts of Greater Los Angeles held their Cookie Kickoff on Saturday, Jan. 15 in the City of Industry. Meaning if you haven't seen a sweet table set up at your local mall or store, with a group of very nice people sitting behind dozens of brightly hued boxes, you will.
We like the "Meet the Cookies" feature at this Girl Scout site. Being devoted to a certain green, minty inside box ourselves, we never venture over to Lemon Chalet Cremes. But 2011 is a new year, and the freezer only has so much room. This is the year of trying something new, of breaking molds. Or cookie sheets, we suppose, in this case.
Here are the 2011 dates to know; initial orders are open.
Copyright FREEL - NBC Local Media