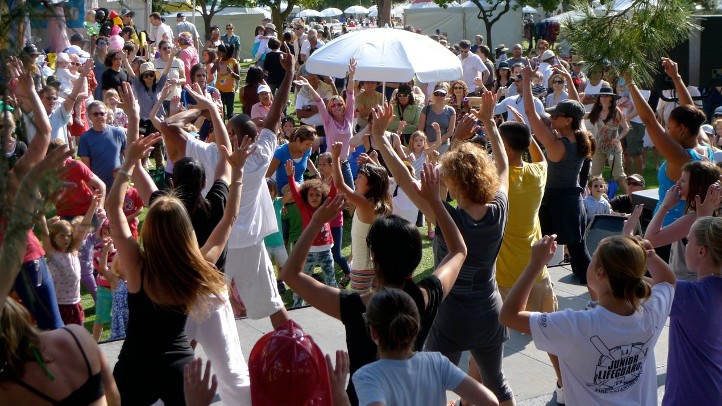 Putting "spoiler alert" in front of a sentence that highlights the fact that "festival" and "festive" are related words would be downright cheeky of us. So we shan't.
But we will say that seeing any festival that truly is pretty festive, and lives up to that wordly connection, cheers us, because not all of them do. And any time we see photos from the springtime Santa Monica Festival we think, "Wow, there are some people having a good time."
There's a lot of dance photos, in short, and people smiling with their hands in the air. Do you love Santa Monica? Do we all give props to what may well be our sunniest city? Props, SaMo.
If you're feeling like you want to get our dance on, or pick up so eco tips, or hobnob with people who live in the area, or eat at the food trucks gathering at the Global Cafe, get to Clover Park on Saturday, May 19.
It's a free festival. Parking is free, too. So is the bike valet. It is the bike-iest week of the year 'round these parts, thanks to Bike to Work Day and the AMGEN Tour of California arriving, so we suggest getting into that particular spirit.
Just be sure to pack your dance tutu or leotard or comfiest get-up for some park-style hanging out or shaking it to the live entertainment. Weather'll be perfect. Summer's just ahead. Thanks again, Santa Monica, for putting the festive in festival.
Follow NBCLA for the latest LA news, events and entertainment: iPhone/iPad App | Facebook; | Twitter; | Google+; | Instagram; | RSS; | Text Alerts | Email Alerts
Copyright FREEL - NBC Local Media