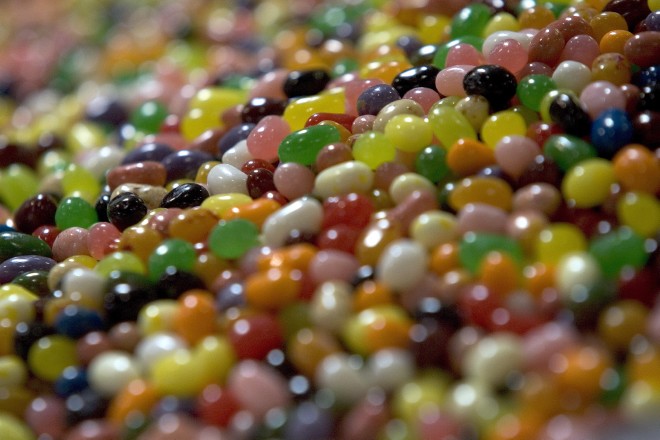 It's hard for us to believe that we live in the same state as the Jelly Belly Factory, and yet we're not there practically every month. Granted, we're kind of at one end of California, a state noted for being on the stretchy-long side, and the famous jelly bean emporium is kind of on the other, well, not too far from our state capital (it's located in Fairfield, in fact, if you have a map or globe or web site nearby).
But as sugar-freak friends are emailing us about sweet deals they're finding around town on after-Easter candy, we're thinking of planning a road trip to the celebrated factory. First off, free tour (two of our mostest favoritest words in the world). Second, Jelly Belly. We try (and do) go generic on a lot of stuff, but we're locked-in, for life, to this company's whimsical brand of flavors. Buttered Popcorn? Truly, you had us at "buttered" (always with the "buttered" with us). And Toasted Marshmallow? Man alive.
Mostly we like the combo combinations on the back of the packages: take one of this flavor, one of that flavor, two of that particular bean, and voila! You've got a turkey dinner. Or some such thing.
So, Jelly Belly, a Cali staple, we salute you. Or we we would, but our hands are sticky and full of after-Easter candy. But not too sticky to take the wheel for a road trip up north. What? We're almost *completely* down from our holiday sugar rush.
Copyright FREEL - NBC Local Media