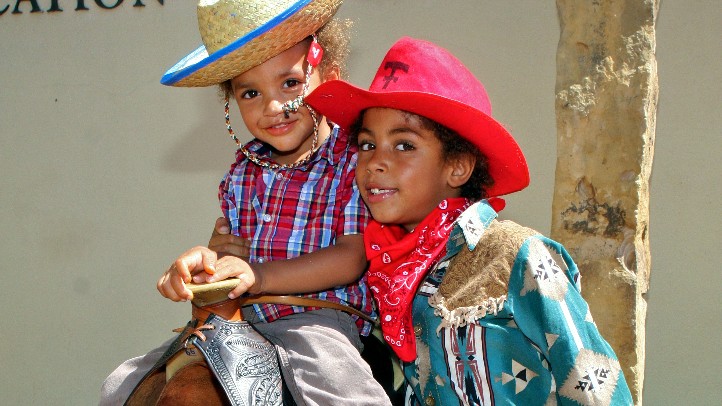 Old West buffs typically have one specific area that they love best.
Maybe it is the lore of the chuck wagon, and all of the challenges that went into feeding people out riding the range. Maybe it is saddle making, and the art and intricacies that went into each cowboy's trusty seat. Or maybe it is the cowboy in popular culture, the man who can get the cattle out of the ravine and still sing a romantic song to his best gal by firelight.
Whatever your cowboy favorite happens to be, bet you'll find at least a hint of it at the annual Day of the Cowboy and Cowgirl celebration at The Autry on Saturday, July 28. That's the perfect place to don a ten-gallon and enjoy a hoedown, of course, and the party won't cost extra beyond your museum admission (you'll want to bring cash for food or souvenirs, natch; the word on the wind says barbecue'll be a-roastin').
The daylong to-do'll have several parts. Acts like Miss Devon & The Outlaw and Triple Chicken Foot'll provide the entertainment, while other stations will let young cowpokes pan for gold, try some stylish roping, and "decorate a horseshoe" to keep forever.
And, yep, an old-timey sepia-like photography studio'll be in the house, too.
It's definitely kid-friendly, and everyone is invited to wear their favorite kerchief and checkered shirt. But the museum says no guns'll be permitted, including replicas.
For the full rundown of hoedown-type to-dos, giddy-up for the Griffith Park institution's online corral. Oh, and speaking of corrals? Word has it real ponies'll be at the party, down on the South Lawn. Yay for neighs!
Follow NBCLA for the latest LA news, events and entertainment: iPhone/iPad App | Facebook; | Twitter; | Google+; | Instagram; | RSS; | Text Alerts | Email Alerts