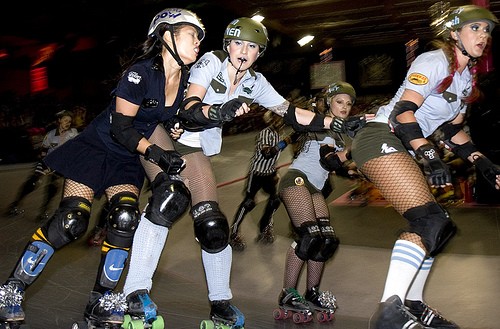 This is not your older brother's broomball.
We know, he used to pull his ramshackle truck up to the rink late at night. Then, clad only in ripped jeans, a tee and old tennies, he'd push a broom around and yell good-natured insults at his pals until they all got tired and went home.
Nope, this LA-style broomball match is going big, it is going downtown, and it is helping out a bevy of charities. The teams: Los Angeles Fire Fighters versus the Derby Dolls. The setting: Downtown on Ice at Pershing Square. The time/date: 9AM on Thursday, January 14th.
Money raised by the match will benefit LAFD Widows, Orphans, and the Disabled Firemen's Fund.
Of course, some things never change. The firefighters and derby ladies will all be wielding brooms and wearing some sort of athletic shoe, rather than ice skates. Plus helmets, which is a fine idea. And checking and body-blows are all on the "no" list (okay, so the older brothers we know mayyybe didn't abide by that last one too often).
Also, while admission is free, donations will be accepted, which is also a fine idea.
Broooomball!
Copyright FREEL - NBC Local Media