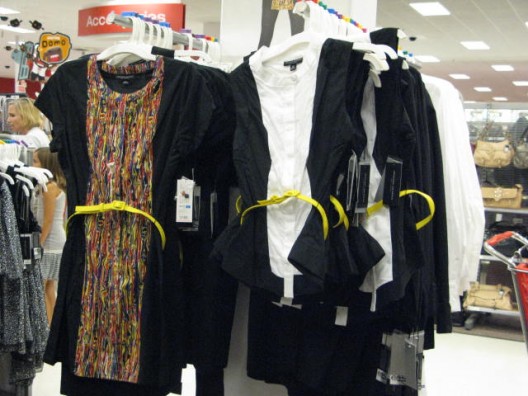 So, yes, the Jonathan Saunders for Target collection has arrived in-store and online. We went to check out the goods at Target at La Brea and Santa Monica, and there was plenty of merch as of Sunday afternoon. The most successful items include mosaic tees, cotton tuxedo button-down shirts in white and electric blue, floaty ombre tunics, and the marble print in general—which is applied to the tuxedo shirt, a chiffony mini skirt, and a colorblock dress. As far as misses, the faux-leather trimmed zippered jacket looks straight outta Chico's (no offense Mrs. Phelps), the knit dresses look cheaply made, and the turtleneck sweaters and a number of other basics just seem unnecessary coming from Saunders. Leave the ho-hum to other Target brands.
· Designer Collabs: Jonathan Saunders for Target Preview [Racked]
· Designer Collabs: Sneak Peak at Jonathan Saunders for Target [Racked]
· Jonathan Saunders Next Target Designer! [Racked]For more stories from Racked LA, go to la.racked.com.
Copyright RACKL