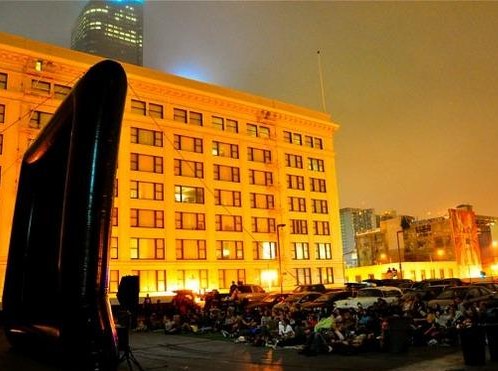 Drive-ins are often snapshotted on the edges of small towns, where the wild vistas behind the big screen are long and empty and trees surround the lot.
But in Los Angeles the drive-in is more likely to be skyscraper-adjacent, and closer to the Lakers than some lake. Enter Devil's Night Drive-In, that once-in-awhile(-but-not-often-enough-for-our-greedy-tastes) downtown drive-in that screens movies on a parking-lot rooftop.
Picnicking and socializing and gazing at buildings, all window-glowing, are part of the scene. Price is $10.
The Devil Nighters have done "The Wizard of Oz" meets Pink Floyd in the past; now they're doing a screening of "Donnie Darko." It's all brooding on the evening of Saturday, January 16th, and tickets are zipping.
The giant, scowling rabbit. A confused and conflicted Jake Gyllenhaal. Menacing atmosphere. And you, snacking under the city lights. Talk about your rocking Saturday.
Copyright FREEL - NBC Local Media