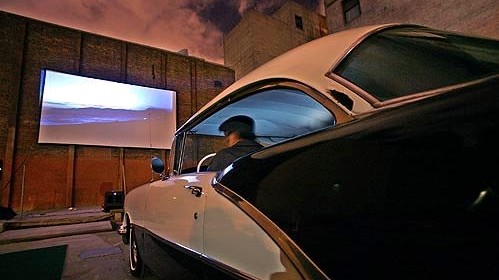 There are always weeds.
Weeds and cracked asphalt and a screen that has seen better days. Those are a lot of the old-time drive-ins we see nowadays, in documentaries and on news reports and driving down the highway to our old hometown.
But, in certain corners, the classic, and not-so-classic, drive-in still thrives. No weeds, not much cracked asphalt, just a fun, warm-weather tradition. So in honor of Google's wonderful animation -- which itself is in honor of the alfresco film venue's 79th anniversary -- we're doing a quick round-up of where you can go to get your outside movie watching on.
Devil's Night Drive-In: It's a parking lot in downtown LA, so you'll be surrounded by skyscrapers and other buildings. It's certainly a bit different from the standard more rural drive-in experience. Next up on the one screen? "Dazed & Confused" on Saturday, June 9.
Vineland Drive-In: It's a classic multi-screen drive-in in the City of Industry, but, nope, it isn't living in the past; one glance at this week's schedule says that several current films are up on the screens. And, in true drive-in style, gates open up at 7 p.m. but shows "start at dusk." There's romance in that sentence. Another bonus? It's open every night.
No Cars But... And three more weekly summertime outdoor movie experiences. Nope, you don't sit in your car, but you are outdoors, under the stars, snacking and looking up at a glowing screen. Good stuff? Indeed. Check out Cinespia, Street Food Cinema, and Eat See Hear.
Follow NBCLA for the latest LA news, events and entertainment: iPhone/iPad App | Facebook; | Twitter; | Google+; | Instagram; | RSS; | Text Alerts | Email Alerts