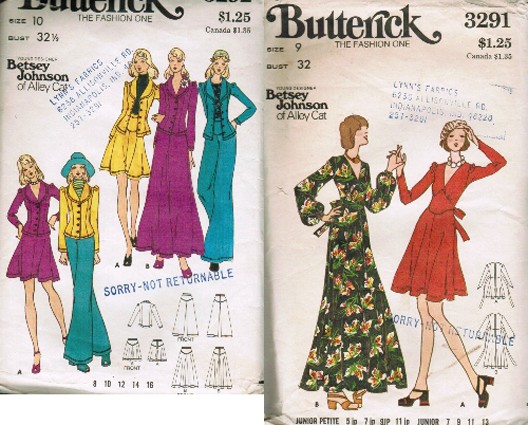 Betsey Johnson label
's 30th anniversary, The Vintage Fashion Library
has gotten
its hands on a trove of vintage 1970s sewing patterns by "Young
Designer Betsey Johnson
of Alley Cat." It's a whole collection of original, authentic patterns put together by Betsey for pattern maker Butterick back when she was still just a young, up-and-coming designer with a lot of potential.
The selection includes fantastic bell-bottom suits, bell-sleeved mini- and maxi-dresses, tunics, and some halter tops and frilly pinafores. Some of the patterns even include instructions for making giant floppy hats. If you sew quickly or know someone who does, there are also some great fall and winter coats, including a hooded trapeze coat that can be put together in long or short versions. (Or both. Once you've bought the pattern, it's yours.)
Some patterns are labeled "Betsey Johnson makes it Fast and Easy," and those shouldn't require a lot of experience to put together. Most of the patterns are priced from $30-$50; try not to think about inflation and the fact that they originally sold for $1.25.
For more stories from Racked LA, go to la.racked.com.
Copyright RACKL