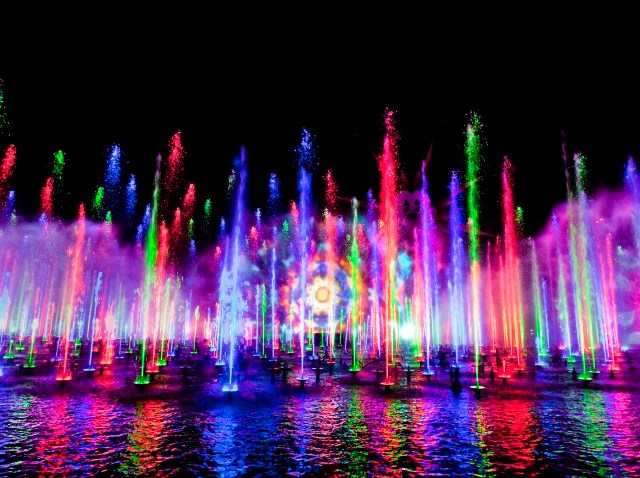 Looking down, from a gondola on Mickey's Fun Wheel (one of the swinging gondolas, of course), it is an epic sight.
A watery expanse full of technical wizardry and various spouts and jets and doodads. A large viewing area across from the water. And past that, the Blue Sky Cellar, where the plans for World of Color have been on display to a curious public.
All of those plans have come to fruition and all of those spouts are now spouting. World of Color debuts to the public at Disney's California Adventure on Friday, June 11.
It's a twice-a-night water show that calls upon 1,200 programmed fountains of every sort (geysers, dancers, flower spouts) to create huge pictures on an aqua-amazing screen. Those pictures -- think Disney characters we know and love -- will be accompanied by stirring sounds and tunes. Pixar has been involved as well. We're feeling the wonder and we're not even currently in the 714. That's the amount of magic afoot.
Because it is big. Disney big. So big that there are various ways to grab a viewing spot, including the famous Fast Pass and dining options. Call Disney Dining at 714-781-DINE for more information or check out the World of Color site.
Copyright FREEL - NBC Local Media