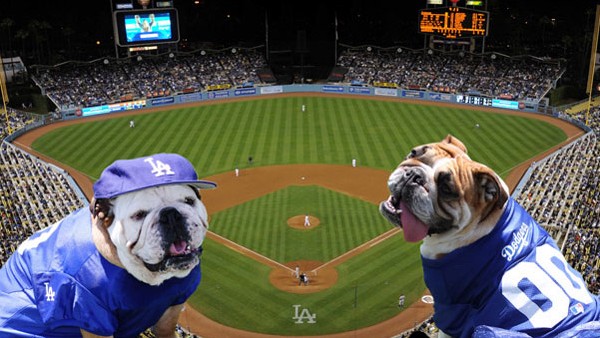 How popular is the annual Bark in the Park Day at Dodger Stadium? So popular that the first go-around in May sold out, leaving a lot of dog-loving Dodger fans wishing they could be at the field with their own Fido.
But the team responded, creating a second Natural Balance Bark for Labor Day Weekend. That's now upon us, the added date is Saturday, Sept. 1, and, like other Barks, there will be a few hound-friendly hallmarks to note.
Like? There's a pre-game "Pup Rally" in Parking Lot G at 4:10 p.m. (Bark in the Park is definitely not about arriving just in time to see the first pitch; you'll want to make an afternoon of it.) The rally, which will hand a few "bests" -- like the pooch with the greatest Dodger spirit -- will be followed by a human-hound parade around the warning track.
Now, like taking your dog anywhere where there are a lot of other dogs and people, you'll need to plan ahead, as in have their vaccinations up-to-date and the paperwork in hand. We can't encourage you enough to read all the Bark in the Park rules before setting out for Elysian Park with your gussied-up, leashed-up friend.
The Dodgers square off against the Diamondbacks that evening. The team in blue'll donate part of the day's take to the Society for Prevention of Cruelty to Animals here in town. Oh, and finally? This is a get-it-in-advance thing, definitely; don't attempt to buy at the windows day-of.
Woof? Woof.
Follow NBCLA for the latest LA news, events and entertainment: iPhone/iPad App | Facebook; | Twitter; | Google+; | Instagram; | RSS; | Text Alerts | Email Alerts
Copyright FREEL - NBC Local Media