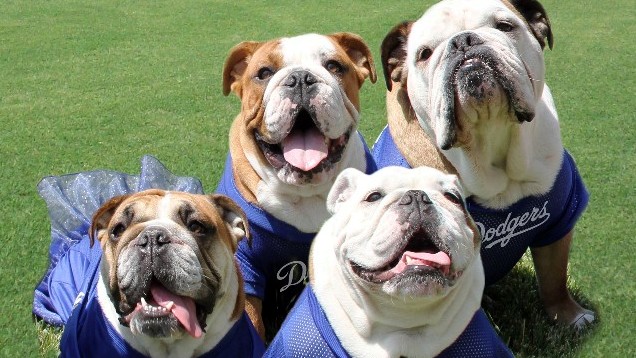 A disappointed fan is a sad sight to behold, especially when they've gotten geared up in their favorite tee and they show up at their team's field fully expecting to enter an event.
But a sad dog? Please. We can't even think about it. The droopy eyes. The droopy tail. We'll stop right there.
With that in mind, if you were hoping to make the very popular Natural Balance Bark in the Park at Dodger Stadium on Saturday, May 26, and you don't yet have tickets, hold that leash; the day is now sold out.
Droopy tails all around.
There's a silver lining, or a Dodger Blue lining, if you prefer, to this particular story, though; the team and Natural Balance have added a second date: Saturday, Sept. 1. Yep, that's the Saturday before Labor Day, so it makes a nice and easy to remember bookend to the Memorial Day Saturday Bark in the Park.
If you don't know about the big day, but you love baseball and barkers, here's a rough -- or ruff -- outline: People show at Elysian Park with their favorite four-footer. There's a rally and there are contests and there are goodie bags and there's the centerpiece, on-field Pup Parade. Oh, and a game to boot: The Dodgers face the Astros on May 26 and the Diamondbacks on Saturday, Sept. 1.
Woof woof. Translation? Get on that September ticket, stat.
Follow NBCLA for the latest LA news, events and entertainment: iPhone/iPad App | Facebook; | Twitter; | Google+; | Instagram; | RSS; | Text Alerts | Email Alerts
Copyright FREEL - NBC Local Media