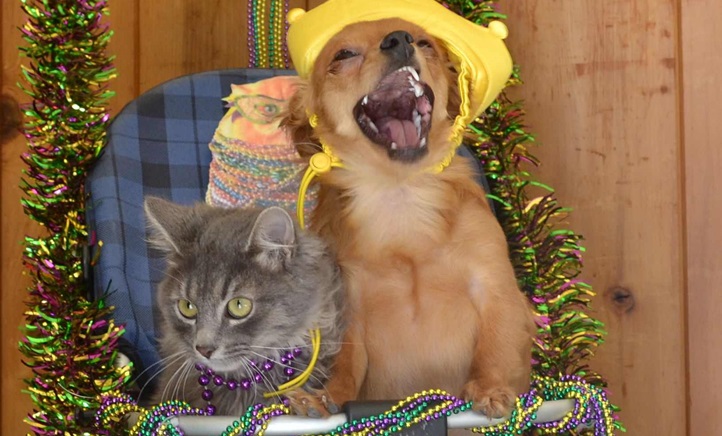 A MEANING-FILLED DOGGIE GRAS: All animal-focused Mardi Gras parades have a lot of meaning, because humans spend a lot of time decorating pet strollers and wagons with beads and fans and masks and other Fat Tuesday touches. It's a sweet outing for person and pet, and the out-sized spirit of the day is very much in sync with the big spirit of most pups in the world. In short? It all fits. But the Doggie Gras and Fat Cat Tuesday event unfolding at the Helen Woodward Animal Center in Rancho Santa Fe on Tuesday, March 4 has an extra sentimental dimension: The Grand Marshals of the parade are Beignet and Gumbo, a mom-and-baby duo found Barstow. But here's the tender twist to the twosome's tale: Beignet is a Chihuahua who was discovered while nursing Gumbo, a wee male kitten. The pair was rescued from Barstow and taken to the Woodward Center via the Barstow Humane Society.
AND... the sweetness continues: They're up for adoption, but, of course, together. A lot of homes take in canines and cats at the same time, but it is the rare household that gets to welcome a mom and son at the very same time. Gumbo and Beignet are quite close, so the person who signs the papers will want to create their cozy setting in their new forever home.
THE PARADE... sets off at 11 a.m., and, yep, Beignet and Gumbo will be present. So will other adoptable cuties, and, as mentioned, Fat Tuesday fun, like alcohol-free Purricanes (you read that right) and photos on Bour-bone Street (yep). It's free, and your dog is welcome, so costume that pup right up. And if you think Beignet and Gumbo could be a good fit for your home, go say hi to them during the day. They make an awfully sweet duo, one that deserves the cheerful-of-spirit debut that Mardi Gras provides.
Copyright FREEL - NBC Local Media