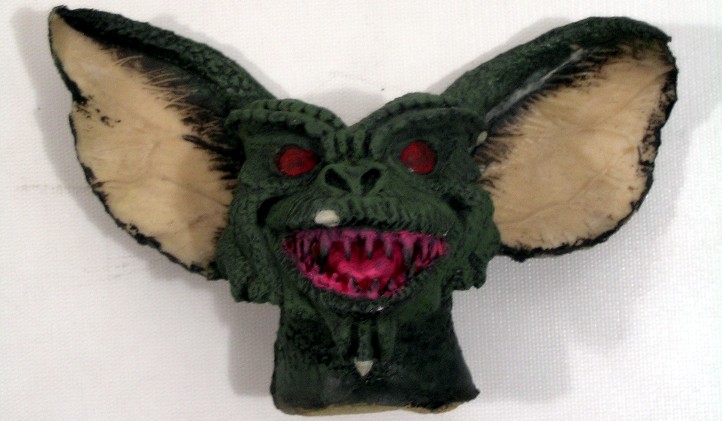 Just about every film fan knows the three oh-so-important rules from 1983's "Gremlins": Don't expose the little guys to bright light, don't let 'em near water, and never, ever feed them after midnight. (We know, we know, the follow-up question is this: When can you start feeding them the next day? Seven a.m.? Eight?)
But you'll have to make up a fourth rule if you successfully bid on the rubber head used in the film during the Fangoria Annual Horror Movie Prop Live Auction at Premiere Props in El Segundo. A "Gremlins" head is indeed in the macabre mix, as are a number of other famously frightful artifacts.
The auction is on Saturday, Oct. 13; viewing times happen in the morning, with the live auction action kicking off at 11 a.m.
Besides the rubbery Gremlin, there are a number of things from "Halloween H2O," including a full Michael Myers figure -- eek -- and young Spock ears from "Star Trek 3: The Search for Spock." And there's a Freddy Krueger mask from "A Nightmare on Elm Street," to help you sleep tight.
Now, what will you do with our horror film find, if you're the successful bidder on your dream item? Display it in a glass case, as a lot of scholars and historians might? Or include it in your scary seasonal decor?
Whatever route you choose, you really do need rules, whether you try for that "Gremlins" head or not. Nope, your rule doesn't have to be of the "don't touch water" variety, but you might tell visitors to your place "don't touch the artifact I spend time and money bidding on; looking and admiring only."
Just a thought. If you can't make El Segundo, you can peruse all the eerie items online. Is your favorite film in the bunch?
Follow NBCLA for the latest LA news, events and entertainment: iPhone/iPad App | Facebook; | Twitter; | Google+; | Instagram; | RSS; | Text Alerts | Email Alerts
Copyright FREEL - NBC Local Media