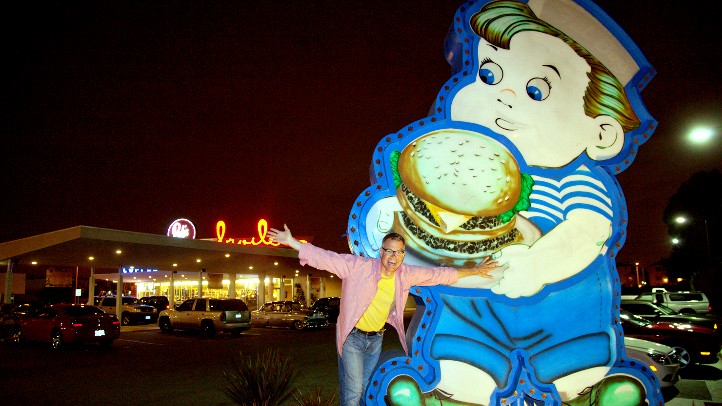 What's the soundtrack for your neighborhood?
Many LA areas have one (the Beach Boys for some of the beaches and Tom Waits and X for Hollywood come to our mind, but fill in the blank with your favorite local band and a stretch they frequented).
And those neighborhoods that do not have a soundtrack? Should really look. Your album is out there.
Downey, of course, fully and totally belongs to the Carpenters. Yep, Richard and Karen recorded at A&M on La Brea, but they lived in the community a few miles south of downtown. In fact, Downey and the Carpenters rival even the beaches and the Beach Boys for sheer simpatico, in some ways. Because Downey still boasts a lot of that mid-century-to-1970s charm from the era when the Carpenters were king and queen.
Now history-sweet entertainer Charles Phoenix returns to one of his favorite cities to celebrate its look and feel and architecture and vibe. It's a slideshow, not a tour, so you'll want to make for the Woman's Club of Downey on Nov. 13.
You'll eye the factory where the Apollo Command Module was designed. You'll see the oldest McDonald's. And yep, Carpenters love will play a cameo.
Tickets are $25. This is a Sunday night, we'll add, so if you want to listen to "Rainy Days and Mondays" on the ol' hi-fi when you get home, you definitely should. Keep the Downey love going into your week.
Copyright FREEL - NBC Local Media