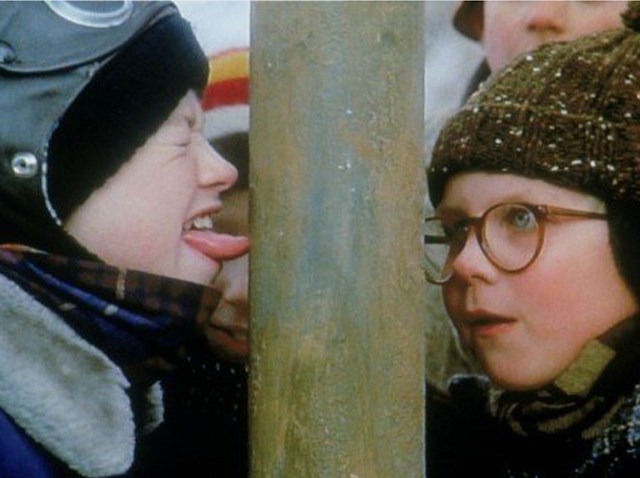 Is it impossible to see "A Christmas Story," the hilarious heart-hitter of a film directed by Bob Clark, written by Jean Shepherd and starring a bespectacled Peter Billingsley, and not instantly love it and want to watch it every holiday season at least three times? We think it might be.
Good thing you can find it, somewhere, somehow, on the big screen every year. That is a gift of living in Los Angeles. "A Christmas Story" played large every December. The '09 sighting: Aero Theatre. Date: Friday, December 18th. Time: 7:30PM
Will you wear your bunny suit?
For a movie that really came to prominence through years and years of cable showings, an in-the-theater treatment is special indeed. Imagine, the tongue-stuck-on-the-icy-pole moment, only enormous. The giant lady-leg lamp made much huger. The crotchity department store Santa, all bigger than what you've seen on your small box at home. It's a colorful movie colorfully told, which makes it the perfect flick to watch with a bunch of ready-to-laugh strangers.
Everyone has their favorite scenes and quotes -- we're partial to the whole piggy-in-the-kitchen gigglefest -- so the screenings are sure to be convivial, filled with merry fans of one of the merriest movies ever.
Thanks, American Cinematheque. You knew just what we wanted!
Copyright FREEL - NBC Local Media