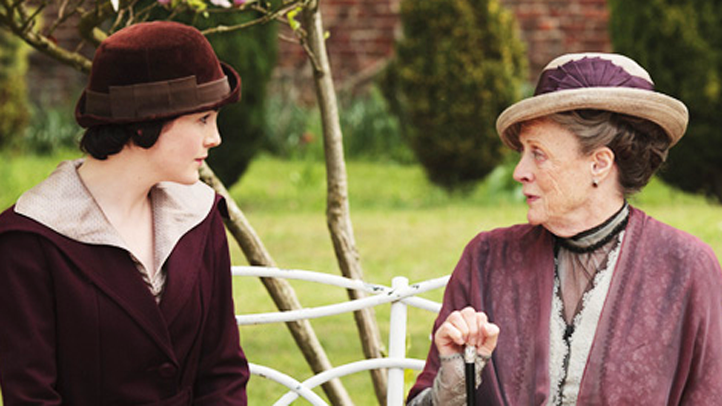 Well, squeal.
The Fashion Institute of Design & Merchandising's annual TV costume exhibit traditionally elicits yays and ehs from fashion-loving fans of various television series. But we'll predict, not too controversially, that the inclusion of "Downton Abbey" costumes in the 2012 exhibit, given the fact that the British import is quite the phenomenon, will summon a whole rousing chorus of hoorays.
The Outstanding Art of Television Costume Design exhibit opens at the downtown-based FIDM on Tuesday, July 31.
"Downton Abbey" is drawing plenty of focus this year, but a number of interesting costumes will be on the mannequins: "Once Upon a Time," "Pretty Little Liars," "New Girl," and "Pan Am" will all throw their hats into the sartorial ring. (Some quite literally, in fact.) And the experts who curate and help with the show are always among the who's who of the costuming world; this year's curator is Mary Rose, the President of the Costume Designers Guild.
As usual, The Outstanding Art of Television Costume Design is free to the public. And, as usual, its run encompasses Emmy time; the outfits will remain on display through Oct. 20 (the Emmys roll on Sept. 23). There are, in fact, a number of Emmy nominees will be included in some of the 75 costumes on display. The get-ups, by the by, hail from mini-series and TV movies in addition to episodics.
We do love the free part but here's one asterisk: The exhibit is closed on Sundays and Mondays. Just make sure you get your "Downton" downtown on any other day of the week.
Oh, think they'll have one of the Dowager's hats in the house? We want to rock a Maggie Smith look this winter, so here's hoping for the inspiration.
(Bottom image: Rainbow Fairy, "Once Upon a Time," ABC, designer Eduardo Castro)
Follow NBCLA for the latest LA news, events and entertainment: iPhone/iPad App | Facebook; | Twitter; | Google+; | Instagram; | RSS; | Text Alerts | Email Alerts
Copyright FREEL - NBC Local Media