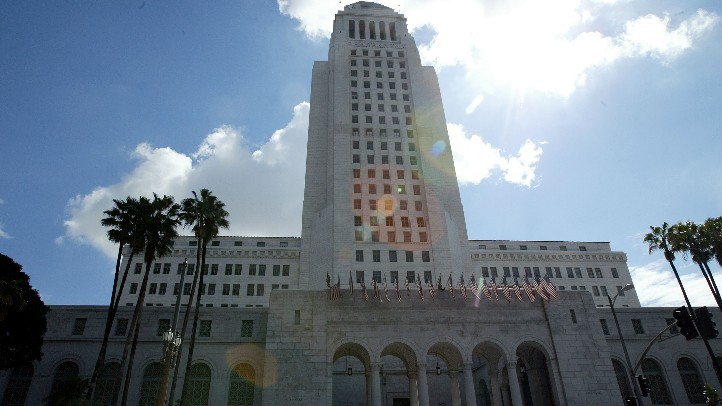 No one'll dispute that our megalopolis, being, as it is, a megalopolis, presents certain challenges. Traffic at 6:05 p.m. on the 110 near downtown? That's the cost of doing business right?
But our bigness lends a lot of glass-half-full moments, too. For example? If there's one thing you want to do but can never do because it is on the wrong day of the week for you, it has a way of showing up elsewhere.
Take the LA Conservancy's Saturday morning walking tours, the ones that cover the various downtown nooks, crannies, and landmark buildings. If you've got a standing Saturday date -- say soccer games or such -- you just can't join one.
Summer, however, brings the Conservancy's Downtown at Sunset Walking Tours, which have much in common with their Saturday morning counterparts, except, well, they're at sunset. They're also on Wednesday nights. They're also shorter, given that it is a school night for many people. And yet? You'll see and learn about a lot of the architecture and city backstory that you would on a traditional Conservancy tour.
The Downtown at Sunset Walking Tours open for another season on Wednesday, July 18.
City Hall is on there, as is Union Station, as is the story of the behemoths that make up our downtown skyline. Don't you want to be the know-it-all in the car with your friends next time you're on the 10, zooming past downtown, explaining all the stuff in your brain that you now know? Trust us -- everyone wants to be the know-it-all, sometimes.
Oh, megalopolis we call LA, you do have a way of showering us with the good stuff, when our schedule conflicts with getting to the good stuff. It's the bonus of doing business in a city this size, we guess.
Follow NBCLA for the latest LA news, events and entertainment: iPhone/iPad App | Facebook; | Twitter; | Google+; | Instagram; | RSS; | Text Alerts | Email Alerts
Copyright FREEL - NBC Local Media