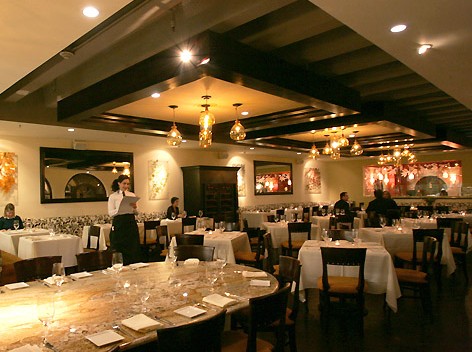 Your job: Get to the restaurant. Our job: Help you order. This week, NBCLA's Eat This journey takes us out for...
Elements Kitchen: If you live in Pasadena -- or, love food and live outside the Crown City -- you likely know Elements Catering, or the Elements Cafe. Now, the chefs behind the catering company have just opened a full restaurant.
Location: In the building that houses the Pasadena Playhouse (so you know it is has been around a few years).
The concept: The thrust of the restaurant is in the name. Each dish is built around a single strong element (or "star ingredient," says the restaurant). Dinner dishes include Game Hen Cassoulet, Oyster Quartet, and Grilled Lobster and Mixed Beet Salad. The PFJ -- Pistachio Butter, Foie Gras Torchon, and Jellied Sauternes -- boasts a number of forthright tastes.
Prices: The Oyster Quarter is $16; the PFJ is $19. The Cardamom Beignets on the dessert menu are $8.
Wine list: It was created by Chris Meeske of Pasadena's Mission Wines. Liking the local neighborliness of the place already.
Playhouse in the headlines: If you're a theater fan, you've been reading of the Pasadena Playhouse's recent struggles. It has been around the better part of a century; here's hoping for its grand return.
Copyright FREEL - NBC Local Media