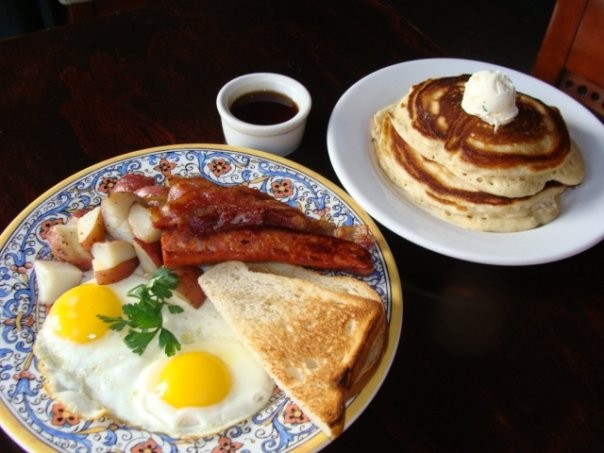 Your job: Get to the restaurant. Our job: Help you order. This week, NBCLA's Eat This journey takes us out for...
Henry's Hat Brunch: That game-fun place is turning on the playoff games, and serving a side of eggs, bacon, and brunch-y bevs to make the calls you don't like go down so much easier.
On the menu: Go classic with offerings like Hank's All-American, which includes two eggs, bacon, sausage, toast and the all-important potato element in the form of home fries. It's $10.50.
Also on the griddle: Fried Egg Sandwiches, The French Linebacker (French toast is key), Bourbon Cinnamon French Toast, and beverages.
The drinks: Mojitos, Bloody Marys, Mimosa and Sangria. Prices are $8-$10.
The games: When you're not wielding your fork you may very well be wielding dice. Risk, Boggle, Twister, Uno, and several other board/card classics are stocked at the Cahuenga-located Henry's Hat. And, of course, there are the televised games, like the January football playoffs. And Wii. You'll work off the extra butter you slathered on your toast in no time.
Henry's Carnival Dogs: They're not on the brunch menu, but rather the starter line-up later in the day. We're mentioning 'em because we feel like it. They're corn dogs, made with sausages, and the dipping is mustard-y pleasure. Can a person ever read the words "corn dog" and not make mention? We won't even respond to our own question because the answer is clear.
Copyright FREEL - NBC Local Media