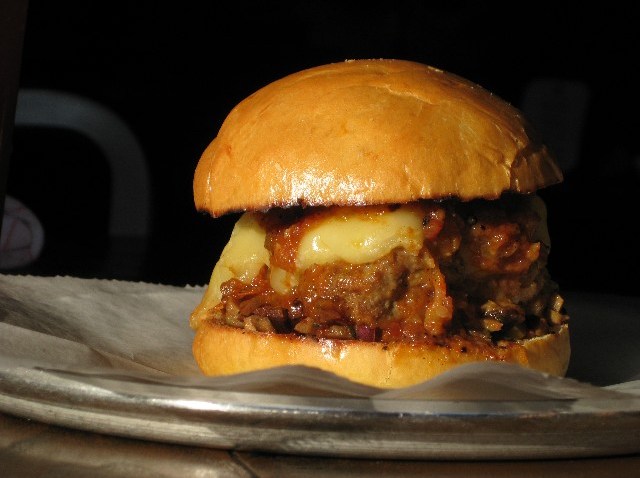 Your job: Get to the restaurant. Our job: Help you order. This week, NBCLA's Eat This journey takes us out for
The Wild Boar Meatball Sandwich: It's at 8 oz. Burger Bar, on Melrose, and it is the Burger of the Month.
Burger of the Month: Somehow, those words instantly soothe and tempt, simultaneously. Because any restaurant committed to a dozen outstanding and unusual burgers in a calendar year is going to know their stuff. And be confident enough to try new stuff, too.
February's selection: This is one serious-minded sandwich. It has heft, and flavorful tomato-y sorito, and melted cheese. We can see hunkering down with this meatball masterpiece during one of LA's notorious wintertime cloudbursts. A chill-warder-off-er of major proportions, we're betting.
Price: $12
Sides: They're a la carte, and a tad offbeat. Brussel sprouts with bacon sounds like something we'd be slow to try but fast to love. Or the truffled potato skins perhaps. The restaurant also recommends pairing a Foster's Banana Shake with the Wild Boar Meatball Sandwich, which is an intriguing pairing that'll probably cross our mind, oh, another 97 times over the next year.
Copyright FREEL - NBC Local Media