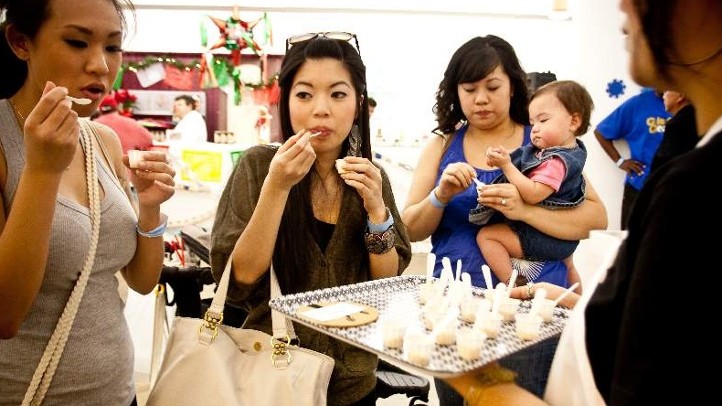 Our own mom used to construct those dried bean jars back in the day. Remember those? They were gifts. You'd put layers of beans in a clear jar and include a soup recipe and voila! Instant holiday gift.
But edible seasonal savories and sweets can take many forms. Regardless of their packaging, though, the fact remains that 1) people like to eat and 2) food gifts are rarely greeted with a coldly polite smile. That ol' "you shouldn't have" doesn't actually mean, in reality, no, you shouldn't have.
Enter Artisanal LA. The local-loving occasional pop-up shop is all about really tasty foodstuffs made in Los Angeles or its environs. It's a great place to scour for gifts beyond the bean jar. And we're all in luck: Artisanal LA has a pop-up Pasadena shop just ahead on Sunday, Dec. 11.
Some 50 or so purveyors will be purveying, handing out samples, talking about cooking methods, and recommending the perfect person on your list for those salted vanilla chunks you just bought. It's happening at the Armory Center for the Arts and admission is five bucks. Tastings and samplings will be found within for that price.
Now, who will be there? The on-hiatus Altadena Urban Farmers Market, David's Unforgettables barbecue sauces, and meats from Cast Iron Gourmet. Plus, things you didn't know can be baked. We tried some popcorn-bacon-caramel concoction at a recent pop-up that was so strange and delightful we asked several people in the near vicinity if what we were currently consuming was actually possible.
In short, expect less-than-standard selections.
Now, back to the bean jar. If you want to stay home this year, and make food gifts for your list, we do actually recommend this one. Yep, it had its heyday in the '70s, meaning you'll want to cover the lid in denim or corduroy. Charming, right? Charming.
Follow NBCLA for the latest LA news, events and entertainment: Twitter: @NBCLA // Facebook: NBCLA
Copyright FREEL - NBC Local Media